Last Updated on 01/09/2023
The second week of my 30 day minimalism challenge went well! Taking The Minimalists' "minsgame" as my north star, I've been sticking to my own more simplified rules as described in my first post about 30 days of decluttering, and going after anything that doesn't feel right anymore in my wardrobe and household.
Disclaimer: This post contains affiliate links through which I may earn a small commission at no cost to you. Please see my disclosure.
This week I removed 78 items from my space and life with less stuff really does feel good. Liberating even, in a way.
Is it possible to become a minimalist in 30 days? Probably not. But can you get rid of one thing day-by-day? You bet. The minimalism challenge may get tougher as the days progress, but I think it's a fun way to simplify your home and shake the stuff weighing you down.
So here's how I navigated this second week of the 30 day minimalism challenge, and what I chose to part ways with. Maybe you'll get inspired to try out your own minsgame, or just get rid of one item from your home today.
Day 8: Shoes, A Tough Decluttering Challenge
My stuffed shoe cabinet seemed like a great place to start week two. On the eighth day, I bid farewell to eight pairs of shoes that were either uncomfortable or didn't fit my lifestyle.
Like many women, I have a lot of footwear. The paradox is that I have huge feet and it's quite difficult to find any shoes I like in my size (43). This often results in me purchasing shoes for the sheer fact that I actually found some in my size in the first place. 🤦🏻‍♀️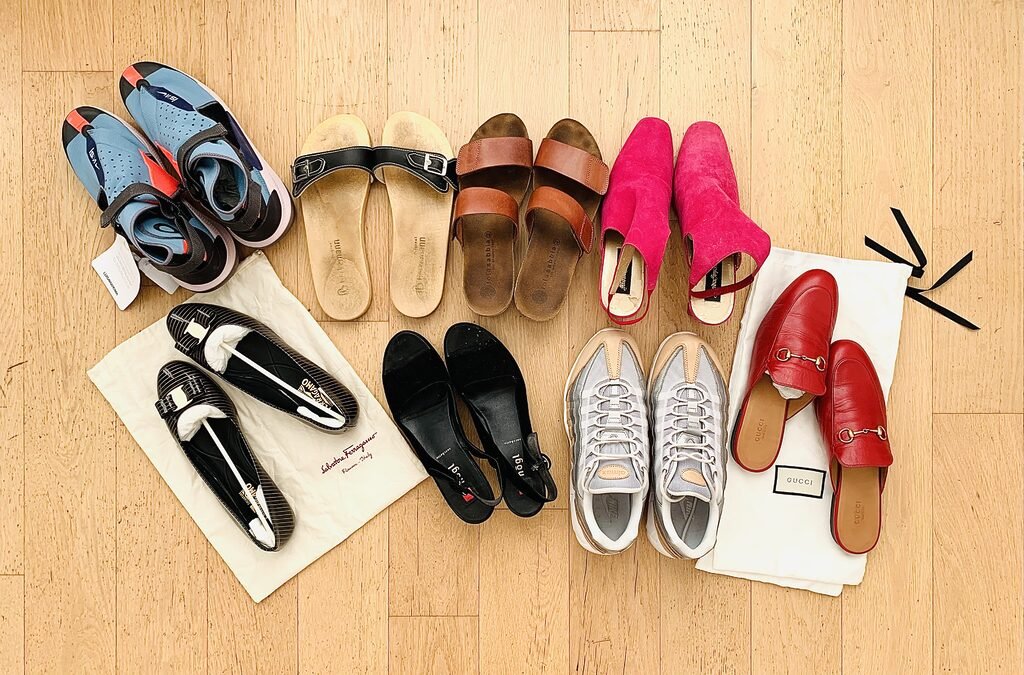 I've accumulated too many pairs of shoes I just don't wear, either because they hurt or they don't fit my lifestyle. Plus, at a height of 188cm I can hardly fit through doorways if I'm in high heels so they're just not essential in my wardrobe. Ergo: the 30 day minimalism challenge seems like a great time to let this motley crew of sandals, trainers, and designer kicks go.
I'm going to donate the items like sandals, and list the designer shoes still in good condition at a couple of online marketplaces. Good quality footwear in my size tends to sell well, given how difficult it is to source. Plus, I'm happy to recoup at least a bit of the money I originally spent. (Check out my guide to making money with your own clutter!)
The silver Air Max 95s sneakers were the first Nikes I ever had that were uncomfortable. I wore them for one afternoon walking around and then never again. And the limited edition blue Nike Joyride ISPA trainers with the tags still on were an impulse purchase. I don't know anymore what on earth I thought I'd wear them with, and if I haven't figured it out by now, I likely never will.
(I'm definitely noticing a pattern here in my trainer purchases. It seems I tend to go all in when Nikes are on sale in my size. How many pairs of trainers does one really need though!?)
Finally, the Ferragamo Varina flats are a tad too big, and the red Gucci Princetown loafers just a tad too small. 😭 I loved the fuchsia suede heels but because I only wore them once in 20 years, their inner lining deteriorated and is peeling off everywhere! The other sandals are simply uncomfortable so I don't use them. I'm ready for living a life without sore feet!
Day 9: Decluttering Magazines
Today was the day to sort out some magazines. I had held on to these issues of Apartamento and Mid Century magazine for many years because they were on the pricey side as they're super beautiful.
Plus, their stacked decorative spines looked great on an otherwise empty bar cart in between my library and living room. But now I want to make space on that cart across from my dining room table for a new light, so I'm ready to let this stack go.
Day 10: Sorting Out Underwear and Accessories
The tenth day of the 30 day challenge was devoted to sorting through underwear and accessories. I found ten things in here I no longer want or need, like the once-beautiful fur-trimmed leather gloves I was given by a boyfriend 27 years ago. I sure did get good use out of them, but now they really look scuzzy. The worn out underpants and bras can go, too.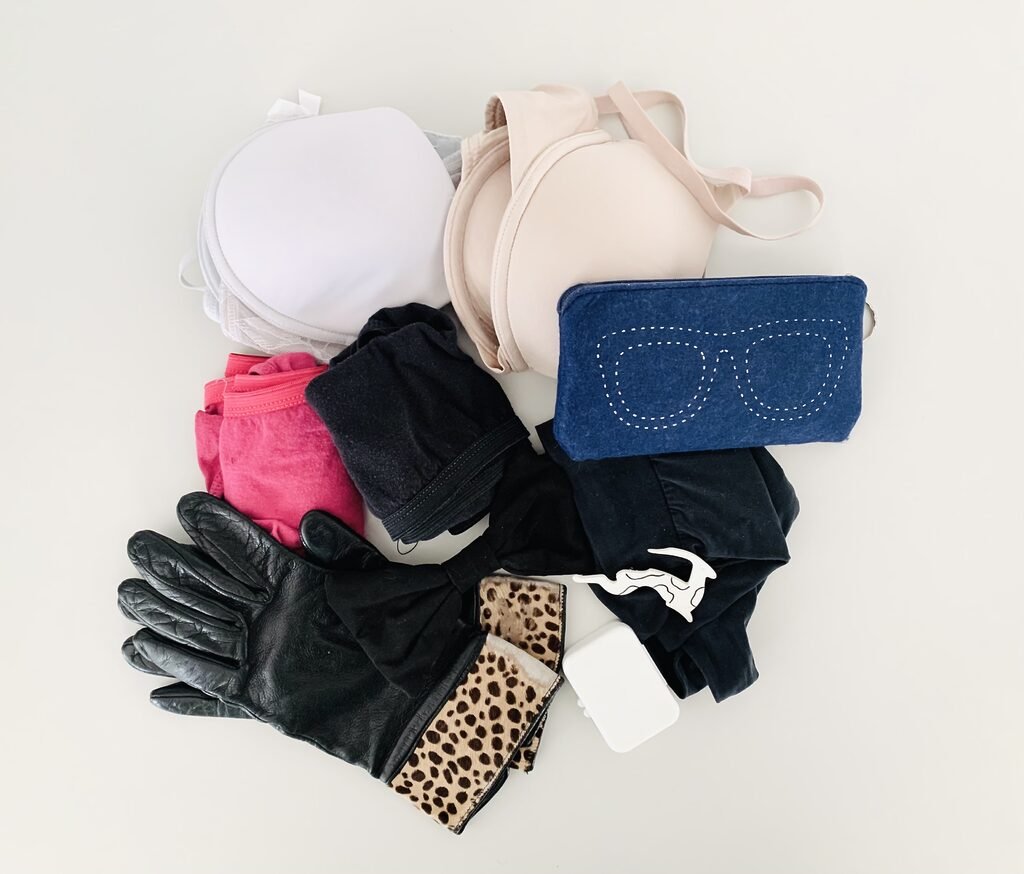 I also found an antelope pin, a mini-sewing kit and a felt eyeglasses pouch in my accessory drawer which I didn't know I had. And if I didn't know I had 'em and didn't miss 'em, I sure don't have to hang on to them. Definitely a reminder that even small items can contribute to clutter and that a minimalist lifestyle involves letting go.
As things progress throughout the month, I think I'll be returning to downsize the closet. I have some items that don't fit and need to weed some more out in here so I can put away everything.
Day 11: More Tech Things to Declutter
Day eleven was all about tackling some more tech junk. During week one of my simplified declutter challenge, I had disposed of a few pieces of e-waste. Today I weeded out eleven more items, including outdated Android cables for devices I no longer have, and an analogue TV antenna (?!).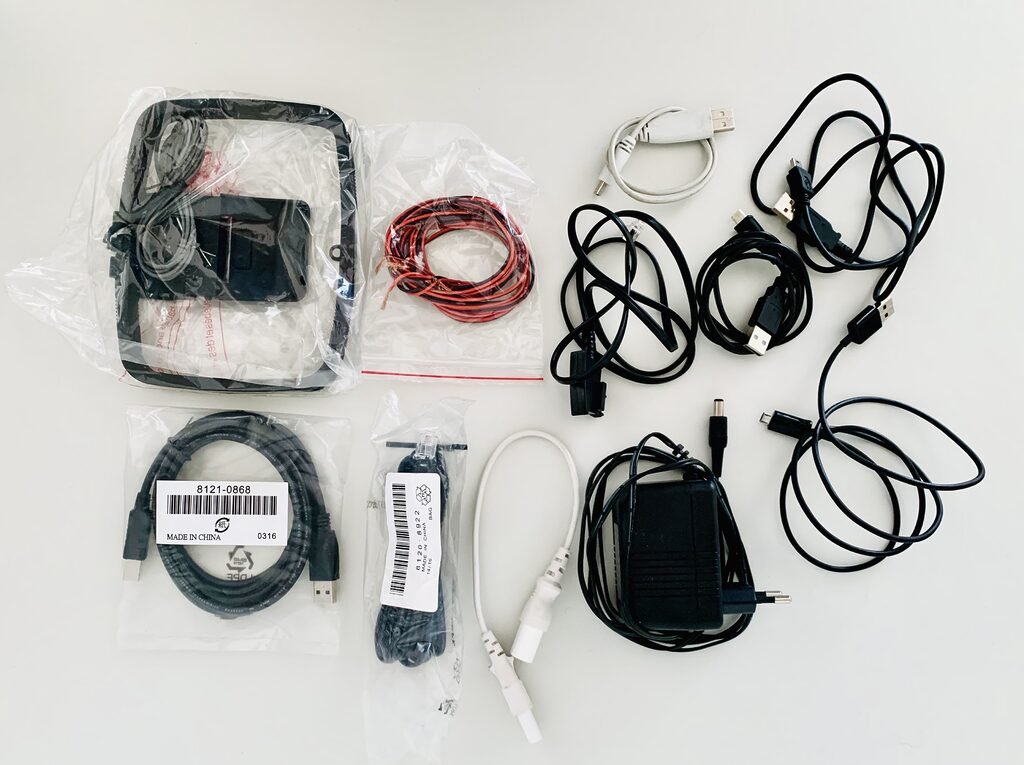 I also said goodbye to power plug with no known use, and a bunch of other mysterious cables I found in my Kabelsalat drawer.
It's time to take all this electronic-y stuff to the e-waste recycling bin. This little act of decluttering already simplified my media cabinet. 👍
Day 12: Decluttering Mailers
On the twelfth day of Christmas the 30 day minimalism game, I found a folder of twelve mailers from a shipper with whom I had a super frustrating experience a couple of years ago. It had been so bad and so costly that I will never ship anything with them again, so these all mailers got binned. 💁🏻‍♀️
Clearing this clutter was not just about physical space, but also about letting go of past frustrations!
Day 13: Tidying the CD Collection
Day thirteen was devoted to tidying my CD collection. I don't much like these albums, plus some of them are just leftovers from my last boyfriend. I already threw him out a long while ago. He was the epitome of physical and mental clutter himself. 💀
Day 14: Letting Go of Kids' Knick-Knacks
Finally, at the end of week two playing the 30-day minimalism game, I sorted out some bric-a-brac cluttering up the kitchen counter. These included Kinder Egg surprises, a Pez dispenser, a Star Wars figure, and a Christmas tin. I passed all of this stuff on to a little person who found some joy in them. 👧🏻
Wrapping Week 2 of the 30 Day Minimalism Challenge
The second week of this simple 30-day minimalism challenge was super. I didn't really have a to-do list when I started out, yet I found it wasn't hard at all finding things that don't fit in anymore. In total, I decluttered 78 items without feeling like it was stressful. For me it's been the perfect amount of decluttering tasks to handle in just a few minutes each day.
I also started a list of ideas of things to get rid of in week three of the 30-day minimalist challenge. As the numbers start climbing next week, that could make it easier to find items each day.
In combination with the 28 things sorted out last week, my tally is now up to 106. I may not be a minimalist in 30 days, but that wasn't the point of this exercise. I really just wanted to timebox a bigger purge, declutter and simplify a larger number of items in a clean sweep.
What's been noticeable is that when we start to get rid of the things we don't like, we simultaneously begin rediscovering the joy in the things we choose to keep.
Maybe that's what being a new minimalist is. Straddling a healthier, saner middle ground somewhere in between consumer-driven maximalism and dogmatic minimalism.
You can find the entire minsgame series in chronological order here:

- Starting a 30 Days Declutter Challenge (incl. rules)
- A Ruthless Week 1 in My Simplified Declutter Challenge 
- Week 2 of Decluttering in a 30 Day Minimalism Challenge (this post)
- Embracing a Minimalist Declutter Challenge in Week 3
- Declutter Your Home in a 4 Week Declutter Challenge? Done!
- My 30-Day Decluttering Challenge Experience (incl. best tips)

Have fun!
So, here's to a living a more intentional life full of less stuff. Want to also declutter your home the next 30 days? If you're not sure where to start decluttering your home, download my free printable decluttering checklist to get going. It gives you some A to Z ideas you'll be able to go through to turn a few small areas of your home into clutter free spaces.
Trust me, you'll know exactly how to continue once you just start!