Last Updated on 03/11/2023
I usually tend to err on the side of minimalism, but luxury bags remain my weakness and I have what some might consider a decent collection of handbags. If you're a handbag aficionado who also gets excited over every métiers d'art edition and can hold a workshop on the differences between sellier and retourne, then you understand the desire to keep these puppies in pristine condition and know that proper storage is essential to maintaining them. And whether you're storing your bags for a short period or long-term, you want to do so in a way that protects your investment.
Disclaimer: This post contains affiliate links through which I may earn a small commission at no cost to you. Please see my disclosure.
Improper storage can lead to a host of problems, including UV damage, dust accumulation, and humidity. These issues can cause fading, discolouration, and even mould growth, which can ultimately ruin your bag. To avoid these problems, it's essential to store your designer bags correctly.
Fortunately, there are many options available for relatively easy handbag storage. From custom-built shelving and specially designed display cases to simple shelf dividers and cubbies, there's a solution out there to fit every need and budget. With the right system in place, you can protect your bags and ensure they remain in top condition for years to come. Read on for designer handbag storage ideas and tips on the best ways to keep your purses organised.
Understanding the Essence of High-End Bags
Luxury purses need some extra TLC if you want to keep them looking good for a long time. Unlike bags from the high street, designer bags are often handcrafted from delicate materials like lambskin, goatskin, suede, tweed or even ponyhair, all which require special attention to maintain their appearance and structure.

Protecting your investment pieces is crucial if you want to ensure that they last for years to come, so a proper system is essential. With a good storage solution specifically for your bags, you can keep them protected from dust, humidity, and UV damage. At the end of the day you're not just protecting a designer brand or its price tag; it's also about the story, craftsmanship, and emotion behind each bag.
Material
I remember the first time I smelled the inside of a Birkin; I swear if they bottled that sumptuous calfskin as a fragrance, I'd wear it! Different materials, especially leather handbags, suede, sequined bags, coated canvas and exotic skins like crocodile and python all have their unique charm and storage needs. And I've learnt the hard way that the inside of your bag needs as much care as the outside. A forgotten lipgloss or an uncapped pen can be your bag's worst enemy.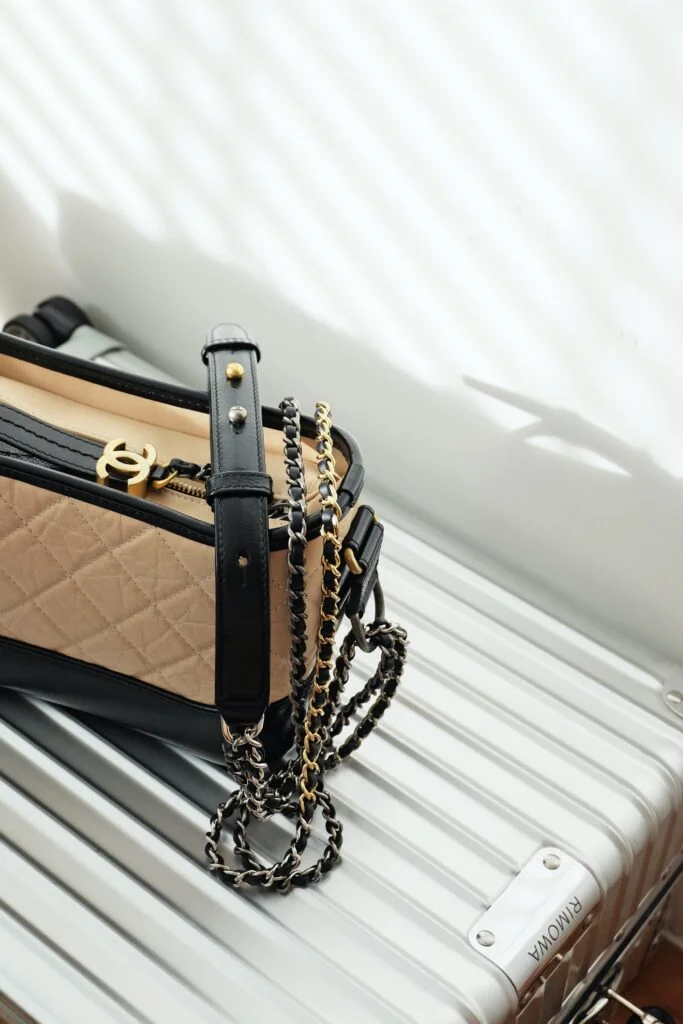 Brand
Each house has its own heritage and legacy, and your accessories typically come with a few things like an authenticity card or electronic certification, care instructions, storage bag, and perhaps a care cloth, clochette or even rain protection. I always hold on to everything along with my original receipt, just in case I ever need a repair by the maison or want to sell my bag on the preloved market later on down the road. For all intents and purposes of this article, it's the dust bag that comes with luxury brands that's of interest here – always keep the dust bag! It's both a protective cover and testament to the house's commitment to longevity. I've made it a habit to always store designer bags in their respective dust bags. It feels a bit like tucking them into bed when I put them away.
Value
For most of us, luxury goods from Hermès, Chanel, Louis Vuitton, Celine, Dior et al. are not everyday purchases. They often need to be saved up for, and they can make a big dent in your wallet. So unless you have a shopping addiction (no judgement), you're probably going to be budgeting for such a purchase and thus want to take care of it once you bring it home. Sometimes though, the emotional value of a luxe pocketbook surpasses its monetary worth. It's the memories, milestones, and precious moments they may bring to mind. So proper storage isn't just about preserving a bag either; it's about cherishing these memories.
Ideal Conditions for Designer Handbag Storage
Given the high ticket price, heritage and luxurious materials of designer handbag collections, you'll want to take care and store designer purses in ideal conditions when you're not using them. These bags really can last a lifetime and even be passed on with the right care. Here are a few things to consider when storing your luxury bags in a closet:
Temperature and Humidity: The best temperature inside your closet is going to be around 16 to 24 degrees Celsius, and moisture control is another important consideration when it comes to storing luxury handbags. Leather and other delicate materials can be damaged by excess moisture, so it's important to maintain a controlled environment to prevent this from happening. Aim for a humidity level of around 30-40% in your closet. If you live in a humid climate (shout-out to my readers in Asia), desiccants help keep moisture at bay and you can also place an individual silica gel packet in the pocket of each bag. Just be sure to switch them out regularly.
Lighting: I know open shelving is all the rage on Instagram and Pinterest, and influencers like to store their bags out in the open, but trust me: you do not want to be keeping good bags out all the time. Sunlight – even through curtains and blinds! – and harsh artificial lighting will cause colours to fade and leather to dry out, so it's important to store your handbags in a dark or low-light environment.
Dust and Dirt: As mentioned further above, luxury bags come with a dust bag and you should definitely make use of it. If you purchased a pre-loved handbag on the likes of Fashionphile or Vestiaire Collective and it's missing its original dust bag, you can use a soft cotton pillowcase to cover it, or search eBay for a replacement dust bag. The dust issue is also another reason to stay away from open shelving. Unless, that is, you have the time to thoroughly dust every single day as part of your cleaning routine. Personally, I don't like spending all my free time dusting!
Space: Store purses on shelves or in drawers with enough space to allow them to breathe. This is important because for one, you want to maintain the shape of your bag. Second, if they're squished up together, the leather is bound to get indentation marks or maybe even colour transfer. And third, you definitely do not want any chain straps or handles losing their form or "embossing" their shape into the material of the bag next to it.
Stuff Your Bags
I would always recommend stuffing handbags and generally keeping purses in an upright position when not in use. You don't need to overcomplicate this step; I simply use the tissue paper the bag was stuffed with at purchase. When my bag is in use, I leave its stuffing inside the dust bag so it's handy when I go to put my bag back.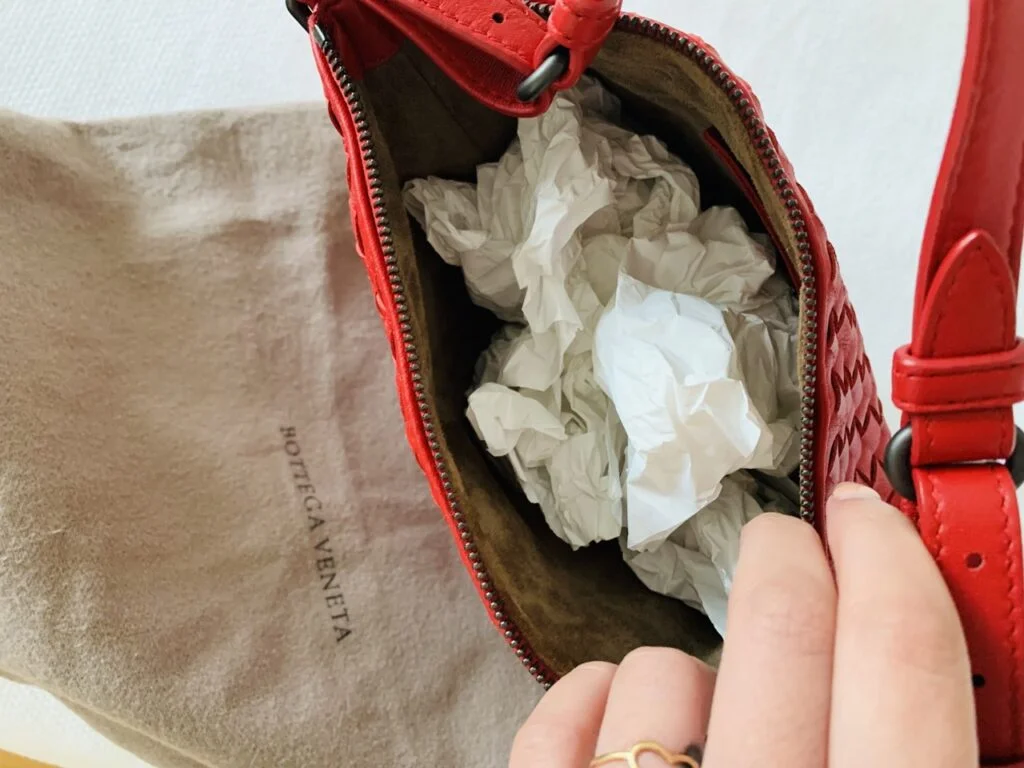 If you bought pre-loved and didn't get any stuffing, you can simply stuff the bag with regular wrapping tissue or bubble wrap to keep the shape of your purse in form. Never use newspaper though, as its dye could transfer to the interior lining of your bag.
Don't overstuff your bags, either. The aim is to keep their form, not stretch the leather out. If you don't like handling tissue paper or you have a very special bag (Himalayan Birkin, anyone?), you might also like to opt for a handbag pillow:
Chain Straps
For chain straps, I always make sure I pull them into the bag and leave them tucked inside so as to avoid indentation marks on the top flap.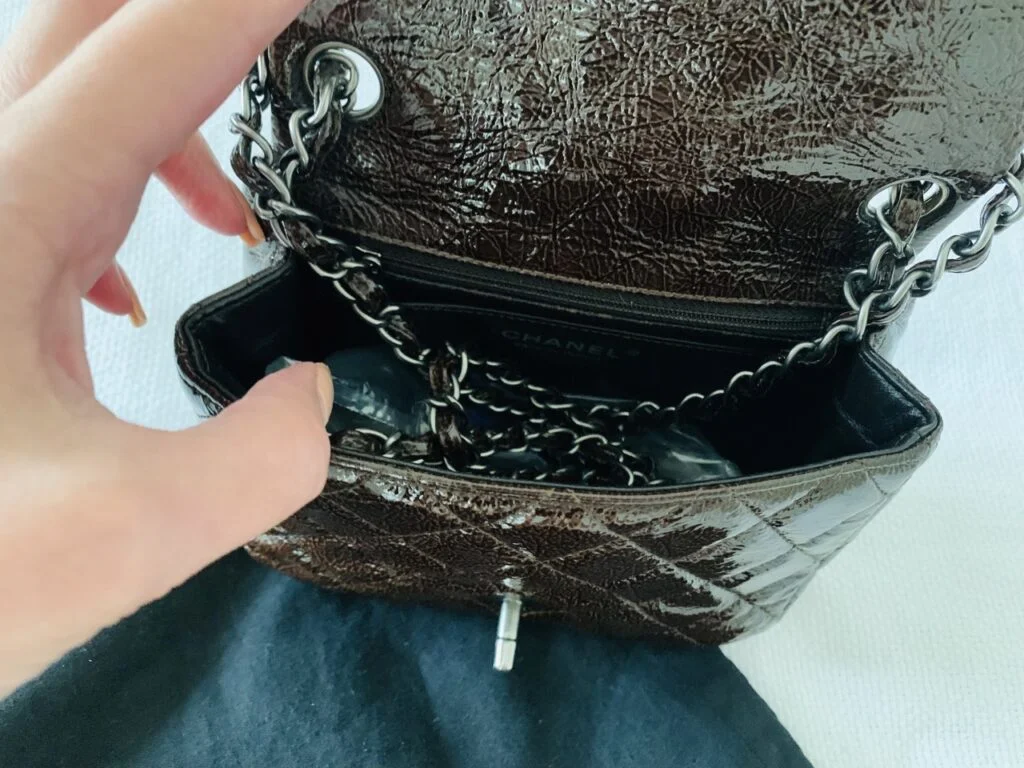 Purse Organisation Tips & Bag Storage Ideas
If you're a bit of a collector like me, you'll find it useful to keep your bags organised so you always know what's where. When it comes to organising your designer handbags in your closet, there are a few different purse storage ideas to consider, all of which can help ensure your collection remains in great condition:
1. Shelving:
Advantages: Shelves offer a visually appealing luxury bag display, making it relatively easy to find which purse you want to use for the day. They can also provide more ample space, so bags aren't smushed up together. Since I keep my collection in dust bags and my shelves are rather deep, I hung simple post-its on the inside door of my closet indicating which bag is on which shelf. This way I don't have to search very long when I want to take a certain bag out.
Tips: Opt for adjustable shelves to accommodate bags of varying sizes. I have a Pax wardrobe from Ikea and purchased additional interior shelves to organise my bags by their height. You can also add dividers or bookends to keep your bags upright. If you're concerned about dust, a glass-fronted cabinet or a bookcase with doors can be a chic solution if you really want to display a few select bags. Just remember, purses and handbags stored in glass cabinets still need to be frequently rotated because sunlight – even when it's subdued – will cause fading. Plus, purse dust accumulates even in a closed cabinet.
2. Hooks:
Advantages: Hooks are space-savers and can be strategically placed behind doors or inside closets. They're especially suitable for bags with sturdy straps or handles.
Tips: Hooks should ideally be padded and rounded to prevent any strain or damage to the handles. Rotate bags often to avoid prolonged stress on any single handle. I really do not recommend permanently storing any bags on hooks because over time, the stress points of the bag's seams are bound to be strained and the bag's shape and strap will warp. Plus there's the dust factor.
3. Cubbies and Bins:
Advantages: Compartmentalised storage gives smaller bags a tidy, designated space. You might find them particularly useful in drawers if you have limited closet space (see below).
Tips: If you're stacking, opt for clear bins to easily identify each bag. Labeling each cubby or bin can also be a practical way to quickly locate a specific bag. If you go with bins, make sure they're not air-tight so as to prevent moisture buildup. They should either be made of a breathable material like felt, or have some air circulation holes in them.
4. Drawer Organisers:
Advantages: Drawers are another ideal storage option for protecting bags from dust and light. With organisers, each bag can have its compartment, ensuring they don't rub against each other. You might also like using a simple kitchen lid or letter organiser for clutches like I do; they fit nicely in most drawers and shelving units. Mine is from Muji and it works great for stowing several handbags of the skinny type that would otherwise fall over.
Tips: Line drawers with soft fabric or acid-free drawer paper to prevent any scratches. If the drawer is very deep and your bags are small, consider adding layers of organisers, like a tray system, to maximise space.
5. Vertical Hanging Organisers:
Advantages: Another great way to store pocketbooks is with hanging organisers. These are often made of fabric, come with multiple pockets or compartments and can simply be hung from a rod in your closet. They're great for smaller bags (especially those crafted from coated canvas), clutches, or wallets.
Tips: Choose organisers made of soft, breathable materials to ensure your bags aren't scratched or suffocated. Ensure the organiser is sturdy enough to handle the weight of multiple bags.
6. Acrylic Storage:
Advantages: Museum-grade acrylic is a sought-after material in the home organisation realm. It offers 360° protection, allowing for a clear view of your bags without compromising their structure or appearance. This type of designer handbag storage can be particularly appealing for those who want to showcase their collection in a protective environment.
Considerations: While acrylic storage has its aesthetic merits, it's worth noting that its production is quite detrimental to the environment and it's not biodegradable. Personally, I don't buy much of it for that reason. As with all household purchases, it's essential to weigh the aesthetic and protective benefits against the environmental impact. If sustainability is a priority for you, explore some other eco-friendly storage alternatives. Or, if you're still dead set on plastic, check out semi-translucent bins or storage boxes made from PP. They're still a good way to protect and keep your bag collection visible, yet usually made from recycled materials.
If you have a really large designer bag collection (who can forget Kim inside her Birkin closet, eh), you might even want to consider investing in a custom closet system. At the end of the day though, no matter how practical your designer handbag storage is or how wonderfully your collection is organised, it's still essential to periodically take out your bags, inspect them for any moisture or indentations, let them breathe a bit, and give them a gentle wipe with a microfibre cloth. If you do, they'll stay in great shape for many years, no matter when their next real-world outing is.
Store with Care: Clean Your Bag Before Storage
Before storing your designer purses, it's always a good idea to take a minute and make sure everything's clean. Here's all you really need to do: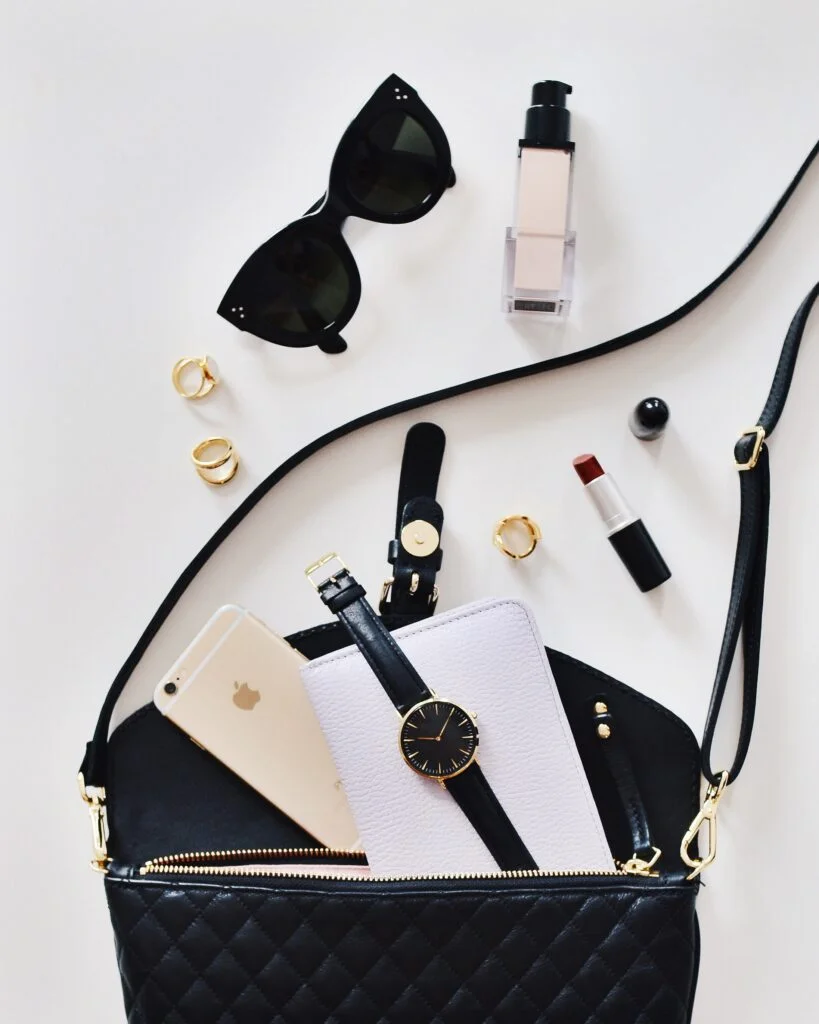 Empty the Bag: Empty all exterior pockets and compartments on the inside of the bag. Shake the bag gently to remove any debris.
Exterior Cleaning: Depending on the material of your bag, it's important to know the best way to clean and protect the outside.

Leather: Use a soft microfibre cloth to wipe down the surface. For stubborn stains, consider using a baby wipe or special leather cleaner, but always test on an inconspicuous area first.
Fabric: A lint roller can help remove any dust or lint. For stains, a gentle fabric cleaner might be effective but do your due diligence first and run a google search or check YouTube for your particular type of stain and fabric.
Suede: Clean your bag with a suede brush to gently brush the surface and lift any dirt.

Interior Cleaning: The inside of your bag can often be a catch-all for crumbs, dust, and small debris. I use a soft brush on my bag interiors and for my large tote bags like the Goyard St. Louis or LV Neverfull, both of which are just coated canvas, I'm not timid about using a brush attachment on my handheld Dyson. For fabric linings, a damp cloth with some fabric cleaner can help with any stains, but again, make sure you know what you're doing. When in doubt: don't be shy about asking your sales associate for care tips.
Hardware and Embellishments: Metal hardware such as clasps and zippers can be polished with a soft cloth. I like to use a super soft microfibre rag for metal parts, the same type I use to clean my eyeglasses with. If your bag has any embellishments like studs, charms or buckles, a soft paint brush (reserved for your bags only) can be really helpful in preventing tarnishing and keeping dust and grime out of all those little nooks and crannies.
Air Out: If you live in a humid area or if your purse got caught in the rain (heaven forbid) let it air out for a few hours. You want to ensure that any moisture has fully evaporated and everything is totally dry before you stow it away.
Final Check: Before placing your handbag in its storage spot, do a final check for any moisture, stains, or areas that might need additional attention.
I like to clean my handbag before storing it away so that it's ready to go when I take it out again. If your bag came with a care cloth, use it! Otherwise a soft microfibre cloth is usually your best bet to gently wipe the exterior and hardware. I like to also pay attention to any stains or marks the bag might have developed, and simply buff them out with my thumb's natural oil.
Some handbag gurus on YouTube recommend using baby wipes and I've also had success with Huggies on my Louis Vuitton leather trimmings. I still say do your due diligence right in the shop: ask your sales associate how to care for the bag. If you bought it pre-loved, do your research on YouTube.
Remember, each luxury handbag is unique, and it's a good idea to follow any brand-specific care instructions provided. Regular maintenance and cleaning not only keep your bag looking its best but also ensure it's ready to use whenever it comes out of storage.
Long-Term Storage Tips for Your Handbag Collection
If you're planning to store your bags for an extended period or just don't use them very often because you never go anywhere like me 😅, here are some additional tips so they remain in the best possible condition:
Rotate Your Bags: Every few months, take your bags out of storage, give them a quick inspection, and see if the stuffing is still sufficient. This helps in maintaining their shape and ensures they aren't exposed to the same stress points continuously. In this same vein, also avoid hanging your bags from hooks for too long. It weighs on the bag and can warp the straps.
Avoid Plastic: Never store your designer handbags in plastic bags or air-tight containers. Plastic can trap moisture, leading to mould and mildew.
Climate Control: Serious collector$ will want to consider a climate-controlled storage unit or closet system, especially when living in areas with high humidity or temperature fluctuations.
Regular Checks: Periodically inspect your bags for any signs of damage, mould, and patent leather stickiness. Early detection can prevent more significant issues down the line.
Professional Care and Maintenance of a Luxury Bag
Even with the best at-home care, there may come a day when you need to have a bag maintained by professionals who specialise in luxury bag care. They can provide deep cleaning, leather conditioning, and even repair minor damages, ensuring your investment remains in pristine condition. The best maisons like Dior and Hermès offer after-sales maintenance services, or you can seek out reputable independent specialists in your area. There's undeniable value in seeking professional services for your luxury handbags either way:
Deep Cleaning: Over time, even with meticulous care, handbags can accumulate dirt, especially in hard-to-reach areas. Professionals can provide a thorough cleaning without damaging the delicate materials.
Leather Conditioning: Leather can dry out and lose its luster. Periodic conditioning by professionals helps restore its shine and suppleness.
Repairs: From minor scuffs to more significant issues like a torn lining or broken hardware, professionals can often restore your bag to near its original condition.
Colour Restoration: Fading is a common issue, especially if a bag has been exposed to prolonged sunlight. Professionals can often restore the colour, making an older bag look rejuvenated.
Storage Consultation: Some professional services also offer advice on the best ways to store specific types of bags, ensuring longevity.
Remember, many luxury brands offer maintenance services, so it's worth enquiring with your sales associate when you're making a purchase.
Luxury Handbags Are Meant to Be Used and Enjoyed
Many bag collectors view their "babies" not just as accessories, but as tangible assets and works of art. I really think it's all the more important to relish and intentionally use them in the here and now, rather than merely storing them away. While there's little joy in owning a beautiful handbag if you don't store it properly and it gets damaged, there's even less joy in it if you never use it at all.

When you do decide to wear your handbags, handle them with a wee bit of extra care. You don't necessarily have to baby them unless the material is extremely delicate, but it's important to take care and not set them on unclean surfaces or subject them to wet weather.
If you go out to crowded restaurants or bars a lot where there's never anywhere to set your bag down, keeping a fold-up hook in your purse can really come in handy! I use one of these when I go out with certain bags, and they're super practical:
You might also want to consider protective measures like a handbag raincoat or just keep an extra plastic bag inside your best purses so that you can pop them in if it starts raining when you're out and about. I promise that walking in the rain with a ten-thousand-dollar bag inside of a plastic supermarket bag will give you a secret chuckle. 😉
However you choose to organise, storing your bags properly will help keep them looking great for many years to come, and with the right care you can make every penny spent on them worth it.