Last Updated on 21/07/2023
One of the projects I completed at home last year was a 30-day decluttering challenge. It was a fun experience weeding out 465 items from my household and it turned out to be pretty liberating, to say the least. In the process, I was also able to make money decluttering.
Disclaimer: This post contains affiliate links through which I may earn a small commission at no cost to you. Please see my disclosure.
Wait, decluttering can be fun and also fill your wallet? It sure can. There's a huge market out there for your used stuff. If you're willing to do some legwork, it's relatively simple to make money while decluttering your home.
The Internet has made it easy to buy and sell things, but some places are better than others depending on what you want to sell. Not every platform or marketplace is suitable for everything. It's frustrating to put a tonne of time and effort into listing a lot of clothing, for example, only to have it sell to a bid of just $1.
The key to fetching a good price for your used stuff is to consider where you want to sell what. This includes both local and online options.
This post provides an overview of your options and will help you decide if it's worth the effort to re-sell. You'll also find some photography tips for taking attractive shots of your items. After all, the photos you use for your online listings can make or break your sale.
Ready to make money decluttering and kick your clutter to the curb? Let's do this.
Why It Pays to Sell Your Used Stuff
Decluttering frees up your mind and makes space for new things in your life. Not more stuff that gets in your way all over again, but stuff you really love and use. The minimalism trend has taught us how good it feels living lighter, more simply, with less things to look after.
Letting go of your clutter creates new possibilities. Making radical changes like the decision to downsize or get things shipshape takes some courage to let go of the old. In turn though, this can unleash new potential. Sometimes amazing things happen when we let go.
Everything is ultimately connected in a universal way, and the more physical stuff you have bogging you down, the more it saps your attention. By decluttering, you're not just freeing up physical space. You're also doing something good for your emotional well-being.
None of this means you have to donate everything you declutter if you're not in the position to do so. You certainly don't want to be adding to our already overflowing landfills though, either. Enter the second hand market.
Pro tip: separate garbage according to your municipality's waste disposal regulations, and recycle responsibly.
It's often worth the effort to sell your used things simply because it can yield a lot of pocket money. Plus, if you're selling personal items from your own household which you've had for over a year, it's usually tax-free in most locales. Just be sure you're not flipping any newly bought items for the purpose of re-selling. That would catapult you into a commercial tax bracket in most places.
Selling your used items is environmentally friendly as well. Who will buy your clutter, you ask? You know the saying…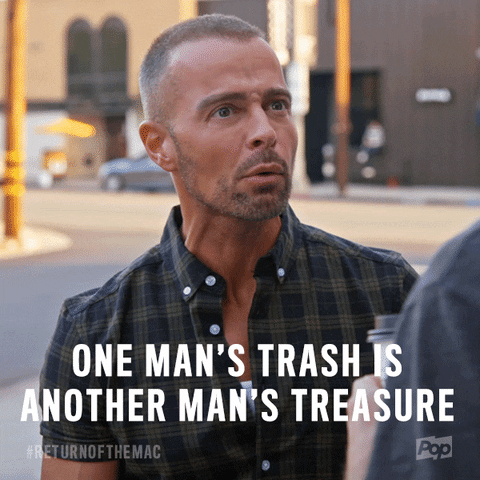 Where to Sell Your Clutter
From private buyers and resellers who will purchase entire lots of stuff, to consignment shops, there are a bunch of different options to make money while decluttering your home. Once you've decluttered and decided you want to sell some of your used items, do a bit of research online. Look for similar items to see what price they've fetched and where there seems to be a demand.
Wait, Is This Really Worth the Effort?
Short answer: probably. Be sure to check the fee schedules of any platforms you want to sell on. Together with the average market price, this will give you a good indication of whether or not it's worth the effort to list the item. Don't forget to keep postage costs and the time it will take you to create the listing in mind, too.
If it takes you 30 minutes to create one listing for your old fondue set and similar sets are only going for $8 on eBay, that might not be worth the trouble once you subtract postage and eBay's 10% fee.
Take your overall situation into consideration. Perhaps you have a mountain of stuff you want to list. In that case you can risk not making bank on a few items. The other items which sell well will average out the loss. Plus, you might luck out and sell the old fondue set for $27 instead of $8 to somebody who was looking for that exact model/colour/size etc. You never know!
Selling Online
Where to best sell your stuff depends primarily on what exactly you want to get rid of. On some platforms you can sell just about anything, while others specialise in particular categories of goods such as DVDs or designer clothing.
Let's take a look at the best options to unload stuff you don't want anymore.
Online Marketplaces (eBay & Co.)
Yes, eBay is still a thing in many countries! It's also a fantastic resource to estimate the value of what you want to sell. On the con side, their fees can be high. Before listing your item, you might want to wait for one of their regular 1$ / 1€ / 1£ weekends where they cap their fees at said low price.
Auctioning your things off on eBay or one of its regional counterparts like Qoo10 is a great way to get rid of many different types of things. If you want to set a fix price instead of risking a low auction bid, you can opt for that, too. Alternatively, you can start items at one buck, but set a minimum price for the sale.
On eBay, it's also possible to bundle the same type of items into a single lot. If you have a huge box of old rubber stamps you decluttered from your art and hobby supplies, for instance, you could list them as one lot. This would save you a significant amount of time it would take to create individual listings.
Creating a Listing
Generally speaking, you must be registered to use these platforms. Once you log on and click the Sell button in the top bar, you will be guided through a menu with everything required to list an item. You often also have to have a Paypal account, such as in eBay's case, to comply with policies and provide buyer protection.
To list your stuff, eBay charges a fee based on the starting price and other things such as if you opt for gallery images or promoted listings. A lower starting price often promises a higher selling price, but you also run the risk of selling your stuff below value if you forget to set a minimum sales price.
Choose the right category so potential buyers can find your item. Many buyers search for items not only through the search bar, but also systematically in the respective categories.
Provide Accurate Descriptions & Clear Photographs of Your Used Items
Provide comprehensive information in the item description. The more details you provide, the better. In particular, describe the condition of the item for sale insofar as it differs from the original condition. Does it have scuffs, a tiny stain, or a hole on the inside seam? Your potential buyers want to know!
The description must be accurate, and complete. Since a legally effective contract between you and the buyer comes into place with a winning bid, the buyer could otherwise demand a reversal of the sale.
State explicitly that you are a private seller selling a used item from your personal household as described. This can protect you from potential claims.
Whenever I list anything, I include this disclaimer in my listing: "The images of this item are part of the item's description." That way no once can say they were expecting a green handbag if my images show a purple handbag and I forgot to explicitly write the colour purple in the description.
Include some good pictures of your item. They should be in focus and ideally in natural lighting (see below for more tips). Make sure you never "borrow" any photos online or from other sellers (or their item descriptions!). This is a violation of copyright law that can be easily traced back to you and might result in a lot of headaches, not to mention a nasty fine.
Niche Marketplaces
What if you've decluttered some special items to sell, such as designer handbags? Or if you have entire collections of things you want to sell like DVDs, coins, or books? It might be worth your while to list them on niche marketplaces for these specific things, as opposed to general marketplaces.
One of the largest sales segments on the Internet is books. If you have a few books you've sorted out and want to list individually, it's worth registering with platforms which specifically cater to the used book market, such as Book Scouter or Abe Books. Here you can list each book at a price of your choice.
On the luxury market, there is some serious money to be made with pre-loved luxury clothing, footwear, handbags and small leather goods. Some of my favourite marketplaces for this niche include Vestiarecollective, Bagista, Designer Exchange, and Fashionphile.
Some good places to sell used high street and vintage clothes are Depop and Vinted (my personal favourite). These are much like secondhand stores, just online. Interaction with prospective buyers here tends to be more personal than on eBay due to the lack of professional commercial sellers. You probably won't get rich here, but by setting attractive price points, you can move things out super fast.
Buy-Back Sites
If you have accumulated hundreds of books, or entire collections of DVDs, CDs, or console games, it would be a monstrous task to sell each item individually. Buy-back outlets are a great place to unload large quantities of such items.
Of course, buy-back portals will never pay the price for an item that you could get if you sold it individually to a customer. They aim at buying used items as cheaply as possible so they can resell them at a profit. They're still absolutely worth looking into though if you want to move a lot of stuff quickly, with a high degree of comfort.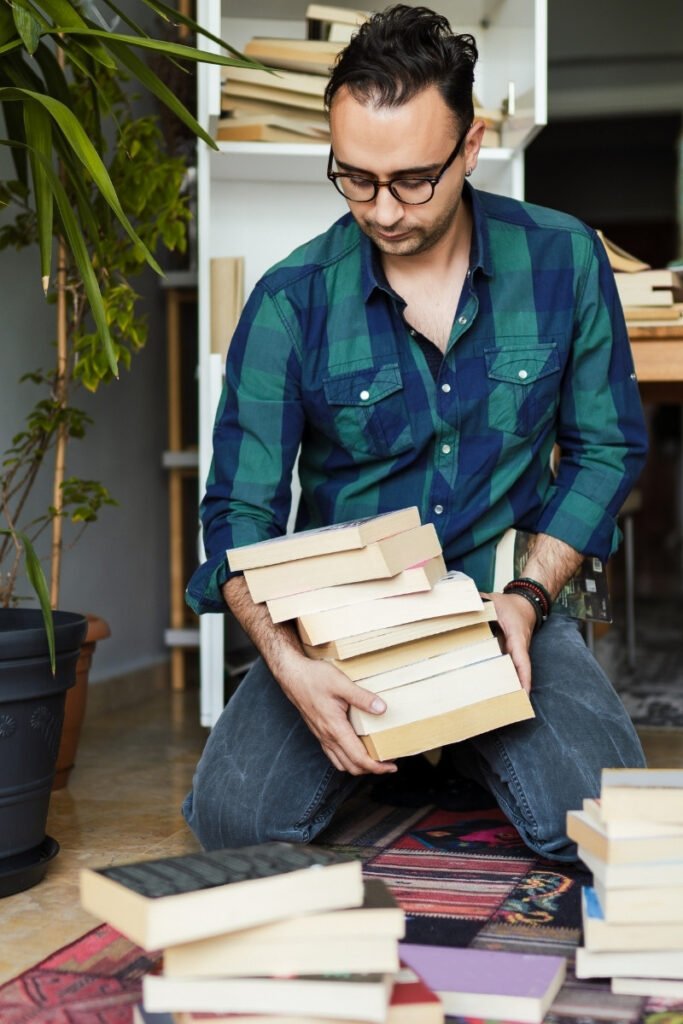 Listing all of the options available around the world would turn this blog post into a novella. Consult Google to see what buy-back platforms in your region are popular. Some good sites in the US and EU for books, cellphones, and music include Musicmagpie, Gazelle, Decluttr, Textbooks, and Webuybooks.
Using these sites is pretty easy. Usually you just enter the ISBN numbers of the books, DVDs or CDs you want to sell and the platform will make you an offer. They'll often even send you a free shipping label so you don't have to pay postage to ship your lot to them.
Electronics
For Apple electronics specifically, Apple has a buy-back or trade-in programme in many countries. In Europe they run it through a company called Brightstar. They'll give you an immediate quote online based on the serial number and information you provide about the item's condition. All you need to do then is send your item to them and keep a lookout for their payment to your bank account.
In the US, you can trade in or sell your old devices to Gazelle. It's a great way to contribute to the circular economy and make some extra cash at the same time.
Some of these buy-back sites will even send you free suitable packaging to ship your item if you need it!
Classifieds
A good alternative to auction platforms and marketplaces are the classifieds. Local searches in particular are super easy here. Think furniture! Or bikes! Or anything big you've decluttered, which can't be shipped. These are ideal candidates for your local classifieds.
Just like in the classifieds section of a newspaper, it's fun for potential buyers to simply browse here. If you list your items on a classifieds platform such as Craigslist, OLX, Quikr or eBay Classifieds, you'll be able to attract a good deal of potential buyers who are ready to haggle with you on the price.
While it might be annoying having to field an onslaught of inquiries about your item, the good news is that buyers will come to collect stuff themselves. Things can thus move very quickly! Usually when I post something to the classifieds in my city, someone comes to pick it up within the space of two hours, and they bring cash with them.
Another huge advantage of classifieds is that no sales fees are charged. This can be great for individual items of a larger scale, such as cars, furniture or bikes and scooters.
Facebook Marketplace & Facebook Yard Sales
Facebook Marketplace and Facebook Yard Sales are yet another fantastic option for easy, local sales in your area. The marketplace works much like your usual classifieds. The advantage here is that you don't need to register with a new platform if you're already a Facebook user.
The yard sales on Facebook are really good for moving things super fast locally. They're essentially Facebook Groups. There's a sell/swap/buy group for pretty much every city on Facebook, or you can join a group for specific items. To find these virtual yard sales, search "Swap" and then your town or the next closest city to you.
Once your request to join is accepted, read the group's rules and you're in. Prices tend to be low in these groups. The aim is to get clutter out of the way fast. You can find buyers looking for children's gear or outdoor furniture, bikes, baby buggies and the like—all right in your area.
Selling Offline
We've covered a wide range of online options so far in this article. Now let's take a look at the classic offline options. They are still a great way to make some cash decluttering!
Garage Sales
Everyone loves a good garage sale, and they typically have a huge local following. Loads of folks scour the classifieds for garage sale announcements, and if you're holding one, they'll come.
Check with your local authorities to make sure your planned garage sale is compliant with your town's regulations. Set a date and tell your neighbours so they're aware (they might even want to join you!).
Announce your upcoming garage sale everywhere you can online and offline. Social media, group chats, the pin board at your supermarket, community centre, and synagogue or church, and the classifieds in the town gazette.
Get ready to hustle when the big day comes. Start very early in the morning and have signage on your street and out front so people can find your sale.
Have enough coins and cash on hand so you can give people change. Be sure to use a waist bag to hold your cash. You don't want to leave your money lying in a cash box or have it all stuffed in your pockets.
You'll want to have enough table tops to lay out your stuff so your visitors can peruse what you're offering. Keep big furniture items towards the walls and out of the way to avoid accidents. Weather permitting, you can spread out your tables in the front garden if the garage can't fit everything.
Be ready to haggle! That's part of the fun with garage sales. The huge advantage to them is that buyers make their purchases at sight and on site, and cart their hauls away themselves.
Garage sales are a great way to make money decluttering prior to a house move, too! They give you a set timeframe to really weed out the things you don't need. Plus they're a nice opportunity to mingle with your neighbourhood community one last time.
Selling your stuff from the comfort of your garage or front lawn means you'll have less to pack up for moving day. Plus, more cash in your pocket for some new things you'll inevitably need in your new place.
Consignment Shops
Helping every individual item find a new owner instead of bulking everything together in one lot has a huge advantage, for sure. You're bound to make more money. Yet sometimes it's just too impractical to sell a large number of items you've decluttered. Or the return on your time invested in listing them all is simply not worth it.
Consignment shops and secondhand stores can be a great option in these cases. You can leave an entire lot of kids' clothing, toys or vintage goods with a local consignment shop, and they'll sell it for you.
These places usually either accept your goods on commission, or pay you up front. If you give clothes to a store on commission, they'll usually stay in the store for a specified amount of time. You'll only receive payment if they were sold within that time frame.
Secondhand shops generally take a big cut of the selling price, often up to 60%. If this sounds like exploitation to you, you can always revert to listing your items individually on the marketplace of your choice. It is what it is. These shops are saving you the hassle of photographing, listing, and shipping everything. So that service comes with a high cost.
Flea Markets & Boot Fairs
Flea markets, jumble sales and boot fairs are other traditional offline venues where you can make money decluttering. They can be super fun whether you're a buyer or a seller!
There is quite a bit of physical effort involved with these options. You need to drag all your stuff over to the market site, unload it and set it all up on your tables. Then you'll need to drag all the stuff back home which didn't sell.
There will also usually be a fee involved to "rent" your space or tables at the boot sale or flea market. These sales are hugely popular so you might have to book your stand well in advance, too. Check your local options and see what markets are being held where, and when.
Private Indoor Sale
Indoor sales are kind of like garage sales, but for city dwellers. If you're getting ready to move, they can be a hugely effective way to get rid of everything you don't want to take to your new home.
Plan your date and let your friends and family know. Tell them they can bring other folks with them, too. You can either corral all your items for sale into one room, or if you've already moved out and just need to clear the rest, let folks do a walk-through.
Stick a post-it with the asking price on each item. Keep your prices realistic. The point of a private indoor sale is to get rid of the clutter. Be prepared to give some stuff away for the taking. You'll be relieved to find most everything gone at the end of your private sale.
Auction Houses & Antique Dealers
If you want to sell particularly valuable art or antiques for a good profit, it's best to have them appraised first by experts from an auction house such as Christies or Sotheby's.
Your local antique dealers can also help you with pieces that are less sought after, but still valuable. If you call them, they'll usually be able to come by in person to give you an appraisal. They might purchase your items at sight for cash, or take them in for consignment.
Old pieces of jewellery made of gold, silver or platinum which hold no ideal value to you can be sold for the current precious metal value. You can find scrap gold buyers, for example, in every major city.
Top Tips for Selling Your Clutter
There a few things to keep in mind if you want to successfully sell your clutter. Number one is honesty.
Provide Accurate Descriptions
Always mention any defects, faults or errors in your items. Provide a thorough description. Yes, your buyer wants to know if a label is missing, or if there is a tiny ink stain on an interior pocket.
The more detail you provide about your items, the more trust your potential buyers will have in you. If you fail to accurately describe your items, you may get negative feedback or even get banned from the marketplace you're selling on.
Research Your Keywords
Before composing any listings to sell your clutter online, do a minute or two of keyword research first. You want to get as many eyeballs on your listing as possible. That means you need an understanding of what people are searching for.
Use suitable keywords in your item's title. For example, instead of just saying "brown mens loafers," make the most of the space available to you and really max out that title. "Budapester brown leather mens loafers size 45 clean like new in box" is bound to get you more hits. And the more hits you get, the likelier your item will sell.
Know What Your Clutter Is Worth
Do a little research before selling anything to estimate what your items are worth. People often tend to think their things have a higher value than they actually do. If you price them too high, they won't sell.
You also need to take supply and demand into consideration. If you're trying to sell an old Nintendo Cube and see that eBay has hundreds of them listed for $175, that's a pretty good indication that you won't be getting your asking price of $200.
Be Responsive & Ship Fast
If you are selling used clothing online, for example, you'll often get some inquiries regarding measurements or mod shots. People who buy used clothes are looking for a bargain, but they also want the items to fit well.
Make it a point to always respond to any questions from potential buyers as quickly and accurately as possible. If they have to wait too long to hear back from you, you're bound to miss out on making a sale.
In the same vein, make fast shipping your standard of service. No one likes paying for something up front online and then having to wait for ages for it to arrive. If you received a payment from a buyer, you should be shipping that item out on the same day or the next day at the very latest.
There are no excuses for slow shipping. So when you start selling, make sure you have all the packing and shipping materials you need to get things boxed up and out the door as soon as you've made a sale.
Only Use Your Own Photos
Only use photos that you've taken yourself of your items. It can be tempting to do a Google image search and swipe some attractive product images you found online. This is a violation of copyright, however, and can get you in trouble.
So take your own pictures. It's easier than you may think. Further below you'll find helpful tips for photographing your stuff so it sells.
Don't Sell Trash
The clutter you sell should generally be in good, usable condition or have working spare parts that other buyers are seeking. No one wants to buy trash. So wipe your stuff down and wash any used clothing you plan on selling. Your stuff may be used, but your buyers expect it to be clean.
The better condition your things are in, the more money you'll make. Again, don't try to hide any defects or broken parts. You'll only annoy the buyer and could wind up in a stressful dispute.
If you've done a major declutter at home and sorted out broken or dirty things, recycle them responsibly. Check your local garbage regulations so you know where to dispose of what.
Beware of Scammers
Be aware of fraud both online and offline. If you're selling something locally, in person, it's a good idea to let the buyer know you take only small bills and can't give change. Do not accept cash orders, checks, gift vouchers, or anything except for cash.
Don't fall for scammers who contact you through the classifieds and ask you to ship your item when you've explicitly stated it's for pickup only. Their payment will likely bounce or they will open up a dispute with you, saying you shipped them an empty box or a different item. Stick to your guns. Pickup means pickup.
Some fraudsters will also ring you up and tell you the item you're selling was stolen from them in the past. They'll ask you for a serial number and say "yes, that's my laptop I reported stolen last year!" Don't fall for the latest scams and avoid fraud when you're trying to sell your stuff.
Photo Tips to Help You Make Money Decluttering
Even if you have loads of experience taking beautiful selfies or holiday photos, staging a pair of used shoes or a blouse in an attractive light is a whole 'nother ballgame. The photos you use in your item description can truly make or break your sale.
Take Pictures of Clean Items
Before you open your camera app, clean your items so that they look their best. You want your stuff to appear attractive, so this means staging your shots to show things in their best light.
Tidy up the spot you'll be taking pictures in. Avoid clutter and distractions in the background. This can be achieved by shooting against a white backdrop such as a wall, a sheet, or a white piece of paper.
Take Multiple Photos of Each Item
The more photos you take of your item, the better. If an online marketplace allows you to add ten images to your listing for free, take advantage of that and upload ten images!
Show your items from all angles, inside and out. Take close-ups of any labels, as well as defects or damage so that the buyer can see everything in detail. If you're selling vintage fine bone china, for example, photograph each piece from above, from the side, and from underneath. Take shots of the porcelain marking on the bottom, and do close-ups of any chips or cracks.
Don't hide these details in your photos. You want to instill confidence in your potential buyer so they trust you and click Buy.
For smaller items, include a photograph with the item placed next to a ruler, measuring tape, or coin so that your buyers can gauge how big it is.
Use Natural Lighting
Giving accurate product descriptions also means providing accurate photos. Filters may be common on Instagram, but they play no role when listing items for sale. You want to show the naked truth. So take your pictures in indirect, natural daylight.
Smartphone cameras are so good these days. By all means, go ahead and use your phone to snap your pictures. Keep your flash turned off and set up your shot near a bright window or an area that gets natural light. Perhaps you have a skylight in your home. That would provide wonderful natural light from above.
Shooting in natural light will show the items' true colours. Once you're done, you can quickly crop your images right on your phone. Then you just need to upload them to the marketplace of your choice to create your listing.
What to Do With Stuff That Doesn't Sell
Try as you may, some items just won't find a new home at the end of the day. If you're trying to sell off the entire inventory of a departed loved one or your whole household prior to a move abroad, there are bound be some things just don't sell.
Throwing these out is not a solution. There are a number of more sustainable, environmentally friendly options.
If the leftover items are in good condition, you can ring your local charity to see if they'll take them. Homeless shelters and immigrants' shelters might also want your stuff. You can also try listing the items again in your local classified as "for free on pickup." I've had so many good experiences doing this, with my items being picked up within the hour!
You could also try putting the items outside on your front stoop or the curb, with a big sign that says "FOR FREE." Just remember to bring the stuff back in at the end of the day if no one has taken it.
If you've tried everything and still can't get rid of your clutter, your last resort is to recycle it responsibly. Check out my blog post on Getting Rid of Stuff After Decluttering to get the lowdown on all your disposal options.
Where do YOU want to sell your used items online?
Ready to make some money decluttering your home? Let us know in the comments which platforms and offline venues you'll be choosing to sell your clutter!