Sweater weather is right around the corner and I've started to sort through my jumpers for the autumn. How are your knits holding up? If you're looking for the best way for storing sweaters in the closet and beyond, this post is for you. Sweater storage, especially the chunky ones, can be challenging in terms of closet organisation. Understanding the nature of knits is the key to keeping them looking pristine for years to come.
Disclaimer: This post contains affiliate links through which I may earn a small commission at no cost to you. Please see my disclosure.
Things to Know About Knitwear Before Storing
Knitwear is crafted from delicate materials that need some TLC. Without a proper storage solution, you might find your sweaters stretching, pilling, or even developing holes. A common misstep is hanging sweaters, which can cause them to stretch out of shape. That's why it's best to store sweaters folded on shelves or in drawers.
If you don't have a huge amount of space, then baskets, bins, and under-the-bed boxes can be great for storing sweaters off-season, although I personally prefer keeping things clear under the bed myself. Read on for more sweater storage ideas!
I love throwing on some cosy knitwear from the autumn til springtime. Knit dresses are so easy to style with boots and a scarf in the winter, and on days when I'm feeling meh, it's relatively easy to look pulled together with jeans and a nice oversize wooly jumper. There are many different kinds of knits though, and I've actually ruined a couple of jumpers in the past by not properly storing and caring for these delicate garments.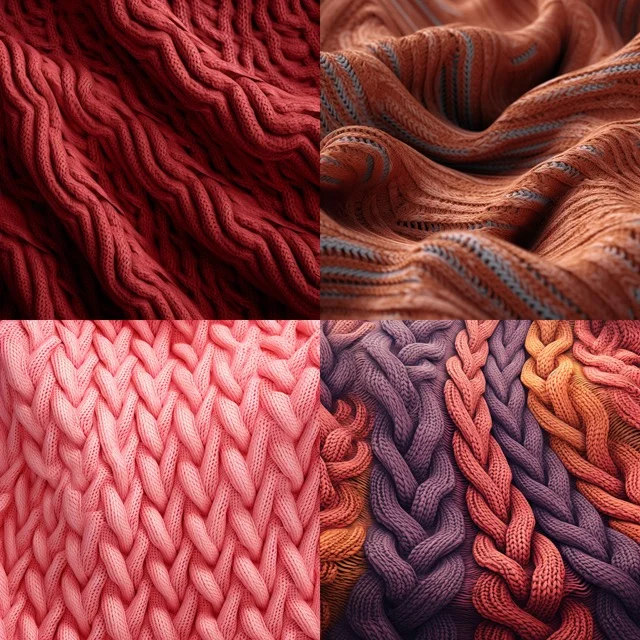 Material Matters in Sweater Care
Not all knitwear is created equal. There's a difference between woven and knitted fabric, and different materials require different care and storage methods. Fine knits like cashmere sweaters for milder weather, for example, need way more special attention than rib stitch cotton or weft-knitted wool jumpers.
Always check the care label on your knitwear to see what materials it is made of and what specific care instructions are recommended.
Is It Okay to Hang Knitwear?
A frequently asked question about the best way to store sweaters is whether it's okay to hang them. Even though some might not give it a second thought, hanging can lead to misshaping over time. Folding is generally the recommended way to organise jumpers so they maintain their shape and don't get stretched out.
If you don't have enough dresser drawer or shelf space in your closet though (maybe you have too many clothes?), and choose to hang your sweaters, check out the tips for hanging further below!
Understanding what kind of knitwear you're dealing with is the first step in ensuring its longevity. Proper care and storing them in a cool, dry place can preserve their quality for many years.
Storing Sweaters in the Closet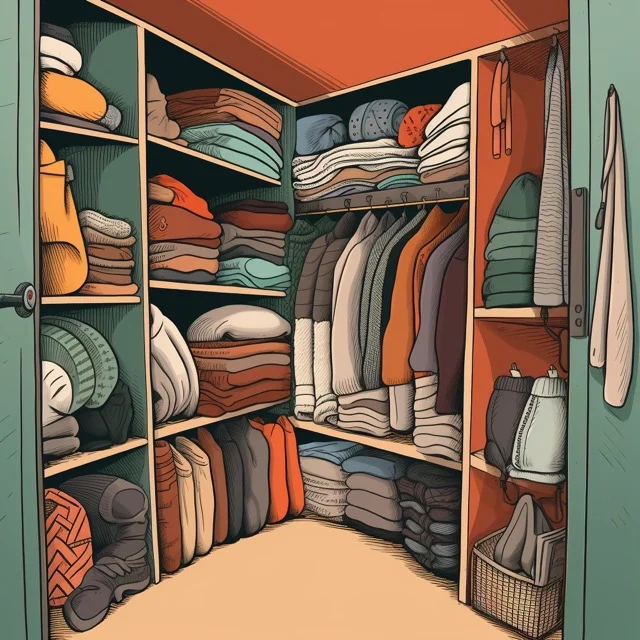 When you've invested in some beautiful knits, it's heartbreaking to see them lose their charm over time. But with the right storage techniques, you can easily ensure that each sweater remains in tip-top condition. Here are some organisation ideas to make the most out of your closet space and care for those beloved jumpers:
Use Sweater Storage Bags
Sweater bags are designed especially for sweaters, allowing them to breathe while keeping them safe from dust and pests. They are particularly handy for those delicate cashmere or fine knit pieces that need that extra layer of protection.
Divide and Conquer
If you're like me and love a structured wardrobe, consider getting some shelf dividers if you keep sweaters in the closet. They let you easily segment closet shelves, helping you organise knits by material or colour so you can grab a sweater without searching.
A Note on Mothballs and Pesky Pests
It's not just wear and tear that can harm our beloved knits; moths and other pests can wreak havoc too. These pests are attracted to the natural fibres in our sweaters, particularly the keratin in wool. This is why it's so essential to store knitwear in a way that helps keeps these nuisances at bay.
Mothballs have been a longstanding go-to solution to keep pests away, but their strong, chemical scent can be really off-putting and they contain toxins.
Instead of mothballs, I've found that cedar blocks or lavender sachets not only repel pests but also leave knits with a pleasant aroma. Regularly cleaning and airing out your closet can also really help in preventing a moth infestation.
Best Practices for Hanging Knitwear
I get it; not everyone has the walk-in luxury of expansive drawer space or shelves. If you're short on space and have to consider sweater hanging, there are still ways to ensure they remain in good condition. The biggest thing to keep in mind is using the right type of hanger.
Avoid using wire hangers or plastic hangers with sharp edges, as they can stretch out the shoulders of your sweaters. Instead, opt for wooden or padded hangers, which will provide better support and help your sweaters maintain their shape.
Padded Hangers: The added padding helps distribute the weight of the sweater evenly, preventing the formation of those dreaded shoulder bumps.
Folding Over Hangers: Instead of hanging by the shoulders, fold your sweater in half and place it over the bottom bar of the hanger. This method ensures minimal stretching. Another option is to use a hanging sweater organiser, which allows you to stack multiple sweaters on top of each other without causing damage. These organisers are especially useful for small closets or when storing a large number of sweaters – they help you make better use of the space.
Rotate Regularly: If you're hanging sweaters for an extended period, make sure to rotate which ones are hung up. This way, no single sweater bears the brunt of gravity for too long. (This also goes for folders sweaters in drawers or on shelves.)
Remember, it's not just about having the right tools like the padded hangers, but also about the techniques you use. With the right approach, a lot of hung knitwear can actually retain its shape over the medium term.
What About Storing Sweaters on Open Shelves?
Open closet systems have become popular over the past few years no thanks to Instagram. While open shelf storage offers an easy way to organise your sweaters and visually enjoy your collection, this type of storage solution comes with a unique set of challenges.
Dust can be a major culprit on open shelving. Sweaters left out in the open for longer durations will accumulate dust, which can affect the fabric's feel and even its longevity. Moreover, constant exposure to natural light can cause colours to fade, altering their original hue. And then there's the ever-present threat of moths, which are naturally attracted to the fibres of many sweaters.
To counter these issues, it's not just about how you store the sweaters, but also how often you actually wear them or at least give them a shake and re-fold them.
Properly folded sweaters not only conserve space but also prevent unwanted creases and maintain the garment's structure. Folding your sweaters nicely is all the more important for open shelf storage. It both ensures they retain their shape and keeps your space looking neat and tidy.
Quick Tips for Folding a Jumper
Lay it flat: Start by laying the sweater face down on a flat surface.
Fold the arms: Fold the arms back, aligning them with the body of the sweater.
Fold in half or thirds: Depending on the sweater's length, fold it in half or thirds. This ensures the sweater sits neatly on the shelf without any parts hanging off.
Open Storage Tips
Once folded, here's how to make the most of your open shelf storage and keep sweaters in prime condition:
Stack lightly: While it might be tempting to make the most of the space and stack sweaters high, doing so can compress the bottom sweaters. Aim for smaller stacks to let each sweater breathe and avoid unwanted creases.
Rotate regularly: This organisation idea serves a dual purpose. Firstly, it ensures even wear and reduces fabric stress. Secondly, by frequently interacting with your collection, you're naturally dusting your items and reducing the chance of any single sweater becoming a moth's prime target.
Use dividers: If you're looking for a great way to store sweaters on open shelves without them toppling over, shelf dividers are the answer. They keep your stacks neat and orderly.
Protection from light: If your shelves are situated in a spot that receives a lot of direct sunlight, consider using curtains or blinds to protect your sweaters from light exposure.
Stay vigilant with moths: Regularly inspect your open shelves for any signs of moths or silverfish. Using natural repellents like cedar blocks or lavender sachets can deter these pests and also impart a pleasant aroma to your knitwear collection.
Remember, the key to successful open shelf storage is regular interaction. By doing so, you not only keep your collection looking fresh but also ensure its longevity.
Tips to Properly Store Bulky Sweaters
Chunky sweaters, with their thick material and generous sizing, can be a real space hog in the wardrobe. While their warmth and coziness are unmatched, storing them without compromising their structure or eating up your available space can be a challenge. Here's how to strike the right balance for the best storage:
Avoid Hanging: This point can't be emphasised enough in the case of chunky knit sweaters. The sheer weight of their material means they're even more prone to stretching out if hung.
Flat Storage is Best: When storing sweaters in the closet or dresser, it's really best to lay them flat, especially if they're heavy knits. This prevents the material from stretching and maintains the sweater's shape. If you're tight on space, consider vacuum-sealed bags, which can compress the sweater without damaging it.
Use Large Storage Containers: For off-season storage, opt for large plastic containers or breathable fabric storage bags. Ensure they seal well to protect against pests and moisture.
Don't Overstack: When storing bulky sweaters on a shelf, avoid the temptation to stack too many on top of one another. This can compress the bottom sweaters and cause them to lose their shape. Instead, store them in shallow stacks or individually, if space allows.
Regular Rotation: If you have several chunky knits in rotation during the winter months, try to wear and wash them evenly to ensure that no single sweater sees excessive wear.
Refresh Before Wearing: Thick sweaters stored for a long time can develop creases or a musty smell. Air them out before wearing, and if necessary, use a fabric spray to freshen them up.
Storing heavy sweaters might need a bit more thought and effort, but with these tips in hand, you'll ensure they remain in prime condition for many chilly seasons to come.
How Do You Organise Sweaters – Hanger, or Fold and Store?
Knitwear, with its delicate fibres and varying textures, deserves meticulous care when stored. The age-old debate of whether to hang or fold and store sweaters has its clear winner: folding is the preferred method to keep those fibres intact and the shape unaltered.
For those who don't have enough shelf space for storing sweaters in the closet or have no closet at all, there are alternatives.
Protecting and storing them in a dresser or baskets can be just as effective. When you store off-season, make sure your sweaters are clean before putting them away. Storage boxes like the ones you can find at the Container Store are also a good option for keeping your closet organised.
How do you organise sweaters? Do you agree folded is the best and store them in drawers, or what are your favourite sweater storage options? Drop us a comment below!