Last Updated on 14/08/2023
How to Organise Your Closet When You Have No Closet
What do you do if your bedroom has no closet? You don't necessarily need a closet to make your bedroom look good and be functional. There are a variety of hacks to maximise however small of a space you have and store clothes without a closet. Here's a round-up of some of the simplest no closet bedroom ideas to help you create an organised and comfortable space that's as easy on the eyes as it is easy to use.
Disclaimer: This post contains affiliate links through which I may earn a small commission at no cost to you. Please see my disclosure.
Invest In a Hanging Garment Rack
One of the most obvious ways to organise a bedroom with no closet is to use a hanging rack. There are many different types, from wall-mounted racks to rolling racks. I prefer the latter, but if you don't have much floor space, you can get one that hangs on the wall to max out your vertical storage space.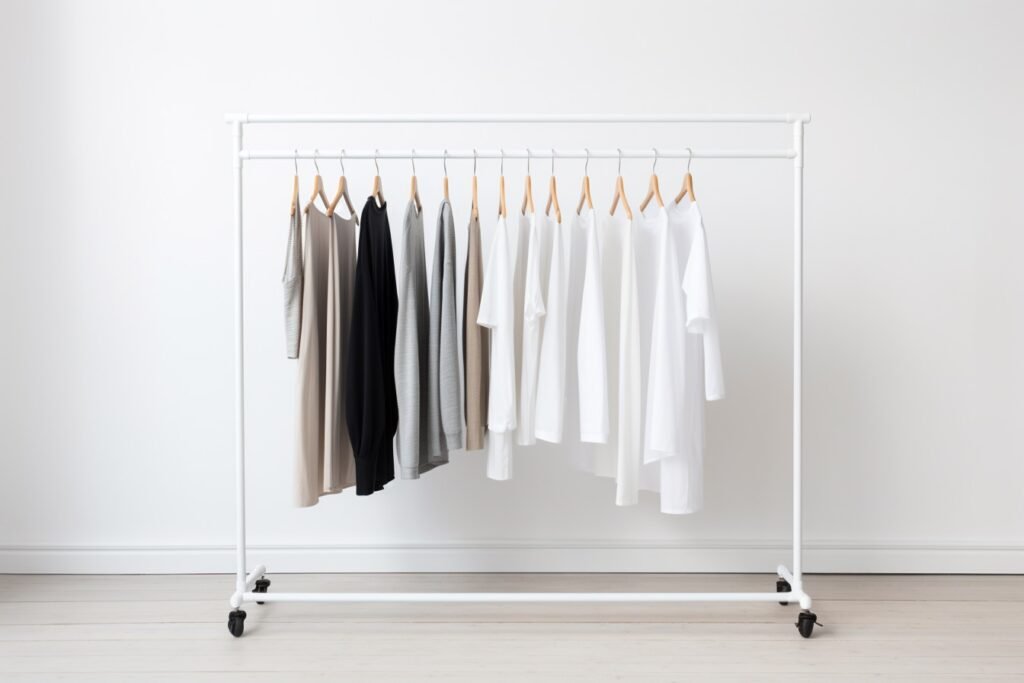 If you have a corner to spare, there are even clothes racks made precisely for corners. Here are just a few examples of different types and sizes of clothing racks. Click for dimensions and prices:
Rolling garment racks are great because they're portable and easy to move around when necessary (like when guests come over). They also take up much less floor space than, for example, the popular Pax wardrobe system from Ikea.
Racks are a good option for organising. In combination with a slim dresser and shelves, you can even create an entire makeshift closet around them (see below).
Stack Storage Boxes
If you're looking for a simple, low-cost way to store seasonal and bulky items, look no further. Storage boxes are great for bed linens, chunky knitwear and any seasonal stuff you infrequently reach for, like your ski pants or beach towels.
One of the best ways to really max out the space in your storage boxes is by using some vacuum storage bags. They'll reduce the volume of items you're storing by up to 80%!
You can choose from a variety of storage box colors, materials and sizes available at most department stores like Ikea, Target, Muji, Bed, Bath and Beyond, or online retailers. Make sure that whatever size you buy fits your no-closet closet space so that it doesn't take up any unnecessary room.
If you use storage containers, it's helpful to label each one with something specific about what's inside (i.e., "winter sweaters"). This makes it easy later on to find what you're looking for when it comes time for those sweaters again next winter.
Go Vertical With Floor to Ceiling Shelves
If you're short on closet space but need to store clothing, bedding, and other items that are too big to hang on your clothing rack, then a vertical shelving solution is your best bet. By installing floor-to-ceiling shelves in your bedroom, you can create an array of storage options for everyday garments, as well as seasonal items like sports equipment or even holiday decorations.

Stack folded clothing on the shelves like you would in a standard dresser. If you attach a rod to the lowest shelf, you can hang trousers, skirts, and shirts at the bottom.
To maximise the amount of storage space, consider using simple grids or cubes that create a series of compartments for storing things like shoes and handbags. These types of systems allow for easy access to everything without appearing overwhelming. You can find systems of this sort at places like The Container Store.
Create a Makeshift Closet
If you have limited closet space or live in an apartment, a simple clothes rack can be combined with any of the other storage options here to create a makeshift closet.
In place of a clothing rack, you could also mount a suspended rod from your ceiling to hang clothes from. You'll need to do some drilling for that though, so make sure your landlord is ok with it if you rent. Check out this example of a hanging rack on My Beautiful Mess. It's a DIY made of copper piping and is combined with some dressers to create a makeshift closet.
Pinterest has a tonne of inspiration if you need some more no closet bedroom ideas. Search for makeshift closet to see an array of great examples.

If you don't like the look of an open makeshift closet, curtaining everything off can significantly decrease the visual clutter!
Use Your Nightstand for Undergarments
The nightstand can be used for more than just your bedtime reading and phone charger. If you have a spot on either side of your bed, choose nightstands with drawers to house your socks, tights and underwear.
Add a nightstand underwear organiser and it will always be tidy.
Add Some Wall Hooks
Wall hooks are a simple way to get more storage space out of a small room. They take up no floor space, making them perfect for those with no closet and limited dresser space. They're practical for hanging individual outfits, or for jackets, bathrobes and coats you often reach for.
Wall hooks come in many different shapes, sizes, and materials. You can buy plastic ones for less than $2 at any hardware store. Just keep in mind that cheap options might not hold up well over time. If you have money to spend on your wall hooks, then consider investing in metal ones. They'll last forever.
A couple of tips for storing clothes on wall hooks:
For a tidy appearance, hang only on or two items on each hook so that clothes don't get bungled up. Also make sure that nothing is too heavy because this could damage your drywall over time.
Make sure all items are clean before hanging them so they won't leave any marks on the wall, which leads nicely into one of our golden rules here at Tidymalism: if your clothes are dirty, toss them in the hamper immediately. 💁🏻‍♀️
Use the Back of Doors
If you have a door to your bedroom, don't forget you can use that for storage, too! This is one of the easier no closet bedroom ideas to implement. There are a number of easy-mount options on Amazon that do not require any drilling and thus won't damage your door.
You could opt for a row of hooks, a hanging shoe or jewellery storage unit, or even go with hanging shelves for your more lightweight garments. Here are just a few examples of what I found on Amazon for you:
Avoid Under Bed Storage
In tiny homes and apartments, under bed storage is a common way to make use of the space under your bed. I'm personally not a fan of it though. First of all, dust, mould and mites are all likely to take up residence in the dark area under your mattress. These can all cause allergic reactions, plus it's really difficult to keep the area under your bed clean when it's full of stuff.
Second of all, under-bed storage is not easily accessible when you need something—you have to lift up your mattress or pull everything out from under the bed (which can be hard if you have back or knee problems).
Thirdly, your mattress cannot properly breathe if air isn't circulating around it. That's not only bad for your qi (if you believe in feng shui), but it will shorten your mattress's lifespan because poor air circulation causes mildew to build up.
If you're curious about all the reasons why it's good to keep things clear under the bed, check out my post on Why Under Bed Storage Is a Bad Idea.
No Closet Bedroom Ideas in Conclusion
There are many creative ways to organise your clothes when you live in a tiny apartment, dorm room, or starter home and have no closet. I think these were some of the easiest—and cheapest—hacks.
So even if you have no closet you can still create a well-organised space for your wardrobe. The method you ultimately choose will depend on your space, and how much clothing you need to hang vs. fold. I hope that this article has given you some ideas and inspiration for your no-closet bedroom. If you have any other tips, leave them in the comments below!