Last Updated on 22/07/2023
It can feel truly freeing to declutter and organise your home. When it comes to books and magazines though, they often turn out to be one of the trickier items to decide what should stay and what should go. Especially if you're a book lover and avid reader! Having a better idea of the questions to ask when decluttering books can help you determine which ones to keep, and which you can do without.
Disclaimer: This post contains affiliate links through which I may earn a small commission at no cost to you. Please see my disclosure.
Bookcases are a prominent piece of furniture. When they're overflowing, your room can start to feel stuffy. Dust also loves to creep in on shelving units.
Freeing up some space in that bookshelf you see everyday can help you reclaim a bit of mental breathing room. This post has some easy tips on how to declutter books and magazines, and keep that bookshelf organised in the future.
Round Up All Your Books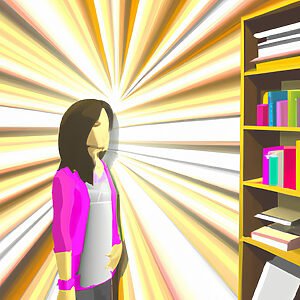 I'm not always a fan of the KonMari decluttering method because it makes a colossal mess due to its mantra of gathering all like items before decluttering and organising. In the case of books and magazines, however, I do find it a useful method.
It's helpful making stacks of what you want to keep and re-organise, and what can be sorted out. And to do that, you really do need to pull everything off the bookshelf.
So before you even think about any questions to ask when decluttering books, designate a space you want to work in. You might want to sit on the floor or work from a large desk or the dining room table.
Then, go through your home and gather all your books or magazines. Bring them to your interim sorting space. Don't forget about cookbooks, textbooks, guidebooks, coffee table books, and any other books you have, even if they're just for decoration.
Sorting Through Your Books
Once you've rounded up all your books or magazines in one place, you're going to create three piles: Keep, sell, and donate/gift. Never throw books away – it's a bad practice. Not only does it contribute to environmental waste, but it deprives others of the potential benefits that books provide, including education, creativity, and enjoyment.
Start sorting through your fiction and non-fiction books before you move on to cookbooks, magazines or children's books. This will get your biggest piles sorted and out of the way.
Questions to Ask When Decluttering Books
When you go through your books, you want to pick each one up and take a look at it. For starters, ask yourself that infamous question: does it spark joy in you? If the answer is no, then it can probably be donated, gifted or sold.
If you feel some delight looking at the title in question, there are a range of other questions you can then ask. These are really helpful in pinpointing why you've been hanging on to the book.
Have you read it?
If you haven't read it, how long have you had it?
Will you really read it?
If you already read it, will you really read it again?
Do you still refer to it?
Is there any other reason you're holding onto it?
Can you honour this book in some other way? For example, by putting it on display, or using it in a book art project?
This might sound like a lot to ask yourself, but by taking the time to evaluate each individual item, you can find out what you actually need and want from your books.
Decluttering Cookbooks
Once you've gone through all your regular fiction and non-fiction books, it's time to turn your attention to your cookbooks.
Start by evaluating how much you cook with each one. If you're trying to free up space, narrow down your collection to your top favorites that you regularly refer to.
Getting Rid of Magazines
Next up, it's time to tackle your magazine overload. Rather than storing magzines in a basket until they overflow, read each one and pull out articles and recipes that you'd like to save.
You can go paperless. Scan these articles you'd like to save into your Evernote, Joplin, Devonthink or whatever note-taking app you use. Then dispose of the magazines themselves in your paper recycling bin.
Organising Children's Books
Finally, if you have kids, you'll also want to tackle their bookcase. Depending on the age of your child, you might want to involve him or her in this process. You don't want to be donating The Cat in the Hat just because you think they're too old for it, when they might still cherish it.
With kids' books, the criteria you use are pretty much the same. Does it spark joy? Is the topic or theme outdated? Does your child never refer to it? Are they past that particular developmental stage yet?
As you work through all of your books and magazines, remember to be tough on yourself. Try not to let sentimentality get in the way when it comes down to your expensive copy of Statistics for the Social Sciences textbook from grad school. You haven't looked at it since graduation and you know it. Let it go.
What to Do With Decluttered Books
When it comes to getting rid of the books you no longer want, you have a few options. One of the most obvious is to give them to someone you know. Perhaps a relative or a colleague would be interested.
There might also be good donation options in your area. Google "book donations" to see if there are any charities, shelters, libraries, second-hand bookstores, or schools looking for book donations.
If the book is still in good condition, you could also try your luck on the reseller market. Amazon Seller's Central is an obvious option, but there are other niche platforms out there you might do better on. Consider registering with online marketplaces geared to book lovers, like Book Scouter or Abe Books. They specialise in selling used books if you have a few books you've sorted out and want to sell individually. You can set your own prices and potentially make some extra cash by decluttering.
Alternatively, you can also use an app like Decluttr to sell unwanted books, although the return may not be as much as you'd hope. If you're getting rid of a large collection, Facebook Marketplace or eBay Classifieds are two other options worth checking out.
Organising Your Books
Once you've gone through all your questions to ask when decluttering books and magazines, it's time to figure out how you want to store your keepers. It's totally fine if you just want to put them back the way they originally were. You might want to take the opportunity though and re-organise your book system.
If you're going all in and getting a new unit to house your home library, start by measuring the space for your bookshelf and determining what size will work best for your needs. Some popular options include low-lying shelving that can store large collections of books, or tall shelving that can be used to showcase special mementos and focal pieces alongside your books.
Many people opt for wall-mounted shelving for easy access and storage. I'm one of them: I splurged on a Vitsoe 606 with integrated desks when I moved into my penthouse nine years ago. While the desks have been a huge disappointment (a post for another day), I still love it the actual shelving unit.
Alphabetical, by Subject or Colour-Coded?
After choosing a shelving solution, the next step is decide how you want to organise your books. An alphabetised system works particularly well for fiction – just sort by author. For non-fiction, I find it more systematic to organise by subject area.
Pick an organising scheme that works for you. If you're storing books with sentimental value, a more creative approach might even be in order. You could organise by colour or create a display case with items that reflect their story.
Archiving Magazines
If you opted to hang on to certain special magazines when you were decluttering, organising them by genre and theme is a good way to go. Some folks prefer to store them in magazine holders or binders to make them easier to find and reference.
In my library, I have archived sample copies of magazines my work has appeared in as a journalist and editor. I store them in simple white magazine file holders on an upper shelf, as I don't often need to reach for them.
Others might opt to put their magazine collections out of sight by using closed storage solutions, like magazine file boxes. This has the advantage that they're also protected from light and dust. If you collect vintage magazines, manga or comic books, for example, you're going to want to go this route.
Keeping Your Books Tidy
As with anything you declutter and organise, it's not a one-time job. Once you've got your books and magazines organised to your liking, it's important to stay on top of the process if you want them to stay that way.
I go through my shelves on a regular basis and make sure everything is in order. I'll put away any books that are out of place, dust off the shelves, and dry-wipe the tops of my books. This not only ensures that things stay looking their best, but also makes it easier for me to find what I need, when I need it.
Apart from that, I go through the decluttering process all over again every year or two. This gives me a fresh opportunity to weed out the newer books I read and don't want to keep, as well as re-assess my overall library.
Cataloguing for Hardcore Book Nerds
If you have an extensive collection of books, you might want to catalogue them if you haven't yet.
An easy and efficient way to keep track of books and magazines is to do it digitally. Using an app like Goodreads allows you to keep a virtual library of all your books and magazines, making it easy to cross-reference and search for specific titles or authors. Similarly, there are apps out there to help you manage magazine subscriptions and keep tabs on which issues you've already read or archived.
Check out my post about the best book catalogue apps if you're interested in setting up a cataloguing system for your home library or to track what you read.
You might also just want to label your shelves with your trusty label maker. This can be especially helpful if you're using a multi-level bookshelf, as it will make it easier to find what you're looking for.
Decluttering Books Makes for Happier Reading
Keeping books and magazines tidy doesn't have to be complicated or overwhelming. With a little bit of organisation and maintenance, your book collection can stay clutter-free and full of literature that brings you joy.
Once you've decluttered your collection and implemented an efficient storage system, you'll be able to enjoy a sense of satisfaction every time you look at your books. You might even find that keeping your collection tidy helps elevate your reading habits.
When it comes to maintaining your collection, remember that like all things, books and magazines need occasional care and attention. Keep a lint-free cloth on hand for dusting or wiping them down, and donate or sell any books that you no longer want to keep.
Happy reading!