Last Updated on 29/08/2023
Take Inventory & Declutter
The best way to start to organise a small pantry with wire shelves is to clear everything out. Then take stock of what you have. This helps you assess what you have, and what you want to continue to keep on hand. Plus, by taking everything out, it's easier to see what you need to get rid of in terms of expired items.
Disclaimer: This post contains affiliate links through which I may earn a small commission at no cost to you. Please see my disclosure.
Before you start though, make sure to set aside enough time. You don't want to be pulling everything out of the pantry an hour before dinner. And you want to make sure you have sufficient time to clean, take stock, and re-organise everything.
When you have a good chunk of time, remove everything from the pantry and give each item a spot check. Weed out your expired, perishable, or any stale foodstuffs. As you go along, make a note on your shopping list of anything you want to replace or stock up on.
Clean the Pantry
Once you've taken stock and sorted out your expired items, it's time to clean the entire space before you start to organise a small pantry with wire shelves.
Wire shelving in a pantry is generally easy to keep clean. After you've emptied the shelves, wipe them down to get rid of any food, dust, or other debris that's built up. You can use a soft cloth or sponge with a mild detergent. After wiping, dry the shelves off with a dishcloth or paper towel.
Don't forget to wash the floor of the pantry if it's a walk-in, or the base if it's a pantry cabinet. Things can get sticky and grimy in there.
Decide What You Need to Store
Now that everything is spic 'n span, what should you keep in your pantry? That's entirely up to what you or your family eat on a regular basis. If you're tight on space in a small pantry or storage cabinet, you probably don't want to be loading up on family size packs of stuff at Costco.
On the other hand, if you know that you use things like pasta, granola, and tinned veggies every week, you'll want to have enough on hand.
Depending on how big your pantry is, this is a good time to think about how to utilise your storage space. Consider the items you need in the pantry, as well as how often you need to access them. For example, if you plan on storing a lot of dry goods or if you bake fairly regularly, you might want to stack them in clear bins or glass jars and keep them all on one shelf up front.
Once you have a good sense of what you're going to be putting back into your pantry, you can start thinking about how to organise it. You might want to organise by food type, by frequency of use, or by expiration date, to name a few ideas.
Pick Suitable Storage Bins to Organise a Small Pantry With Wire Shelves
Maybe you've been inspired by The Home Edit and all their pretty Container Store stuff, but here's the thing. You probably don't need to go out and buy new storage containers to get organised in your pantry. Have a look around your household first for any unused baskets, bins, jars and trays that you could use in the pantry. You might be surprised by what you already have to organise a small pantry with wire shelves.
The most obvious caveat with wire shelving is that things can slide through the slots or fall over. Tin cans have a way of tilting through the grooves of the wire shelves when you reach in to take one out, for example. This is why I like to either place a slim tray on wire shelves, or cut a thick, sturdy shelf liner to measure. If the base of the wire shelf is covered, you can stack your cans more easily without them rolling over.
Alternatively, you might opt to corral items of all one type into containers. If you go this route, you'll want to make sure the containers are the right size for the shelves. Stackable bins are also a great way to maximise a small pantry space.
Choose containers made of durable materials that can withstand the weight of whatever food items you'll be storing in them. The minimalist kitchen essentials you'd get for a first flat are often still the best choice!
You can store smaller items in bins or baskets, and keep dry goods like cereals and pasta in larger food storage containers or tuppers. Make sure they're airtight and can't easily tip over when you're trying to access them. Here are a few good options I spotted on Amazon:
If you have any awkward corners in your small pantry, try using lazy susan turntables to organise them. Nothing will get lost in the deepest darkest corner anymore!
Put Everything Back in the Pantry
Once you've taken inventory, wiped down the pantry, and decanted any stuff like flour or sugar you want to keep in containers, it's time to put everything back into the pantry. I think this part is the most fun!
Try to keep items that you use on a daily basis, such as cereal or snacks, stored up front and within easy reach. Store things you use less frequently on higher shelves or towards the back of the pantry cabinet.
It helps to put things back in a way that makes sense by grouping things by category. For example, keep your baking supplies together, or all your tinned soups in one bin. This makes it easier to find things again. You can also just pull out an entire container of one category to work with in the kitchen.
Pinterest is always a great source of photo inspiration if you need some fresh ideas. Here's what came up when I searched small minimalist pantries: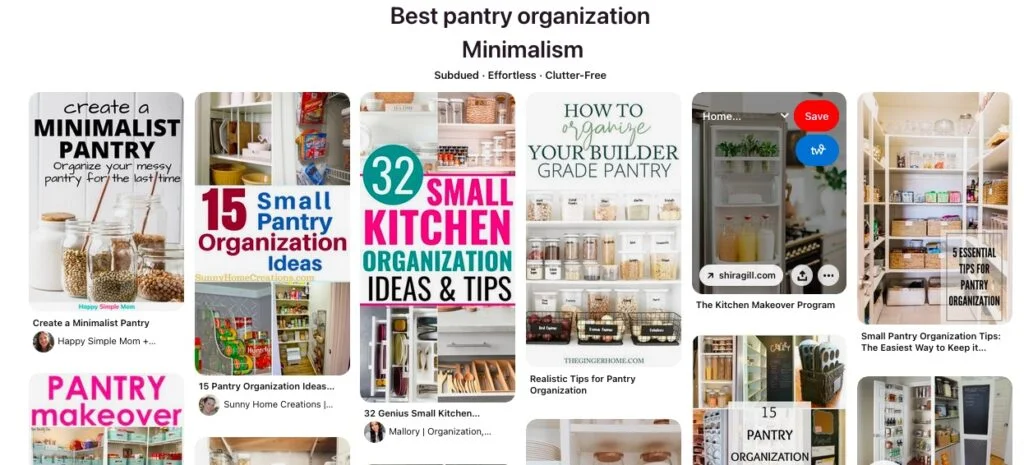 Of course, if you have a bit more space to play with, you can leave some room for any new additions or bulk deals you bring home from the grocery store. This will make it easier to keep those unexpected purchases reined in.
What About Labels for a Small Pantry?
I admit labels look super nice in an organised kitchen and pantry. Since I live alone though, I just don't need them. It's easy for me to remember what's sugar and what's MSG, and I can tell the difference between breakfast cereals and dinner side dishes without having to label their storage bins.
That said, if you have kids or live with others, labels can definitely help keep things nicely organised. Do what works for you and your household. Or maybe you just like the look of labels. Go for it if that's the case! In other areas of my home, I love using my label maker. I've had my Dymo for nearly 20 years and it still works great.
Here are some of their newer models:
On a tight budget or no patience for frippery? You can also just use tape and a permanent marker to label any shelves or containers!
Keeping Your Small Pantry Organised
Once you're happy with your pantry again, you'll want to keep it tidy. It's a good idea to take your pantry inventory on a regular basis in order to ensure that food stocks are fresh and you have enough on hand to meet the needs of your household, whatever size it may be.
Every few months, I like to sort through my pantry to keep it organised. I do the following at these regular intervals:
inspect what's in the pantry and make a note of what items are low or need to be replenished;
check the expiration dates on all food items and discard anything that's past its date or stale;
wipe down the pantry shelves and tidy up anything that's gotten out of hand.
That's pretty much it! How big is your pantry, and do you find wire shelves annoying? Leave a comment below.