Last Updated on 09/08/2023
Organising things at home is not a one-time task. Once you've established some order, it's key to stay on top of tidying so that things don't get out of hand again. Fortunately, there are a tonne of simple home organisation strategies you can use to keep stuff reigned in. Here are ten straightforward hacks that can help you stay organised throughout your home.
Disclaimer: This post contains affiliate links through which I may earn a small commission at no cost to you. Please see my disclosure.
Use the GTD Approach: Make Immediate Decisions
Remember the 2003 bestseller by David Allen, Getting Things Done? If you never read it back then, it's still a really worthwhile read. His "do it, delegate it, defer it, drop it" rule was genius and I've applied it ever since. Not only to my inbox, but at work and all around the home.
In essence, you essentially want to handle things once and, wherever possible, handle them now. If you can get something done in under two minutes, the motto is to do it now.
At home this translates into making immediate decisions. For example, putting things away right after you're done using them. Sorting or discarding the mail after you get it instead of leaving it piled up on the kitchen counter. Having a command centre as a landing zone for incoming bills or paperwork you need to take action on. Being prepared and knowing when you need to replace things or use them up before they expire. And simply being able to find everything without having to search for it.
If you tidy up a little bit every day, things will stay nicely organised with little effort.
Group Similar Items Together
Group together books you haven't read yet. Store tupper lids in the same cabinet as the tupperware. Keep decorations for specific holidays in individual storage bins. Corral the jump rope, mini barbells, yoga mat, foam rollers, resistance bands, and any other exercise gadgets in a big basket to keep them out of the way until your next workout.
Clustering similar items by category or area of use is a great way to organise things. You'll have a better overview of what you actually own, and everything at your fingertips when you need it.
Set Up Outgoing Bins
Create a landing zone for things that are leaving your home. Set up some bins or baskets for donations, dry cleaning, gifts, returns—anything which eventually needs to be taken away.
T-shirt shrunk in the dryer and no longer fits? Put it in the donation bin. Sorted out a bunch of stickers from your desk drawer that are still in their original packaging? Pop them in your gifting bin so you can give them to your friend's kid. Made some impulse purchases you now feel were silly? Put them in your returns bin so you can grab them on your way out next time you head to the mall. Keeping a basket or tote bag in your closet for items that need to go to the dry cleaner is also super practical.
Repurpose Office Supplies
The office supply department has so many useful items for all corners of the home, not just in the office! Vertical file holders are great for organising clutches in your closet. Hanging file holders can be screwed to the inside of bottom kitchen cabinets to store pan lids and tupper lids.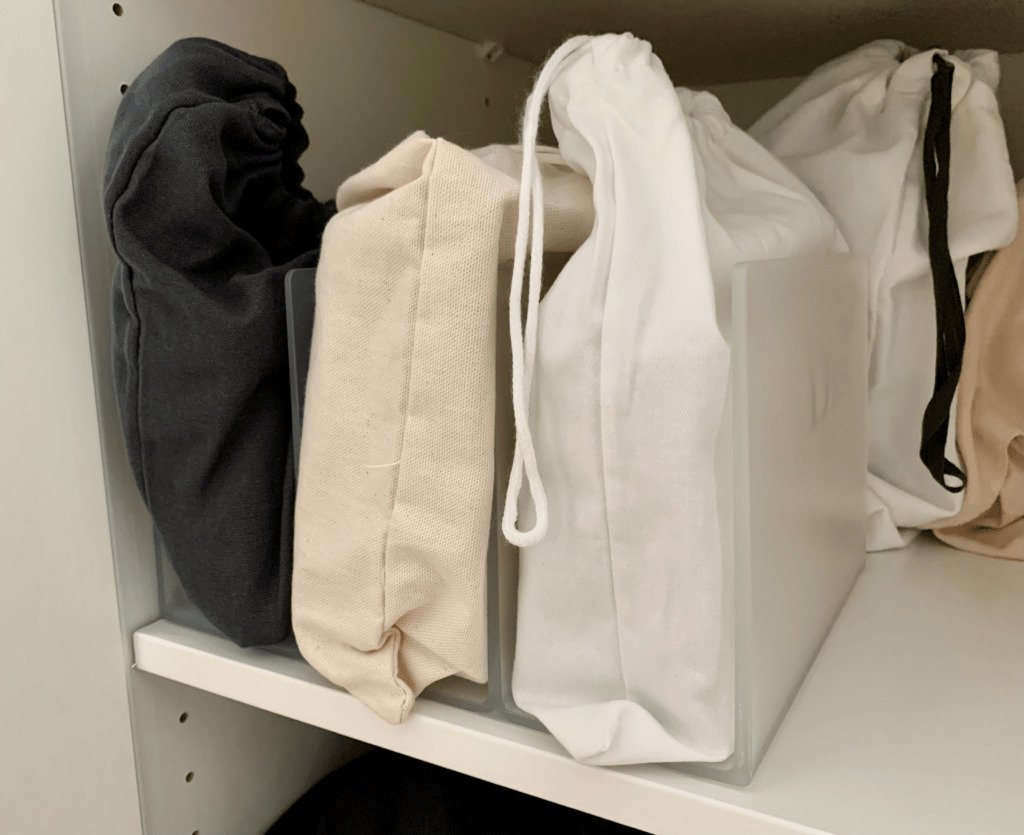 If you file-fold your t-shirts with the Konmari method and are continually frustrated how they fall over as the drawer gets emptier, bookends are a great way to keep them standing straight.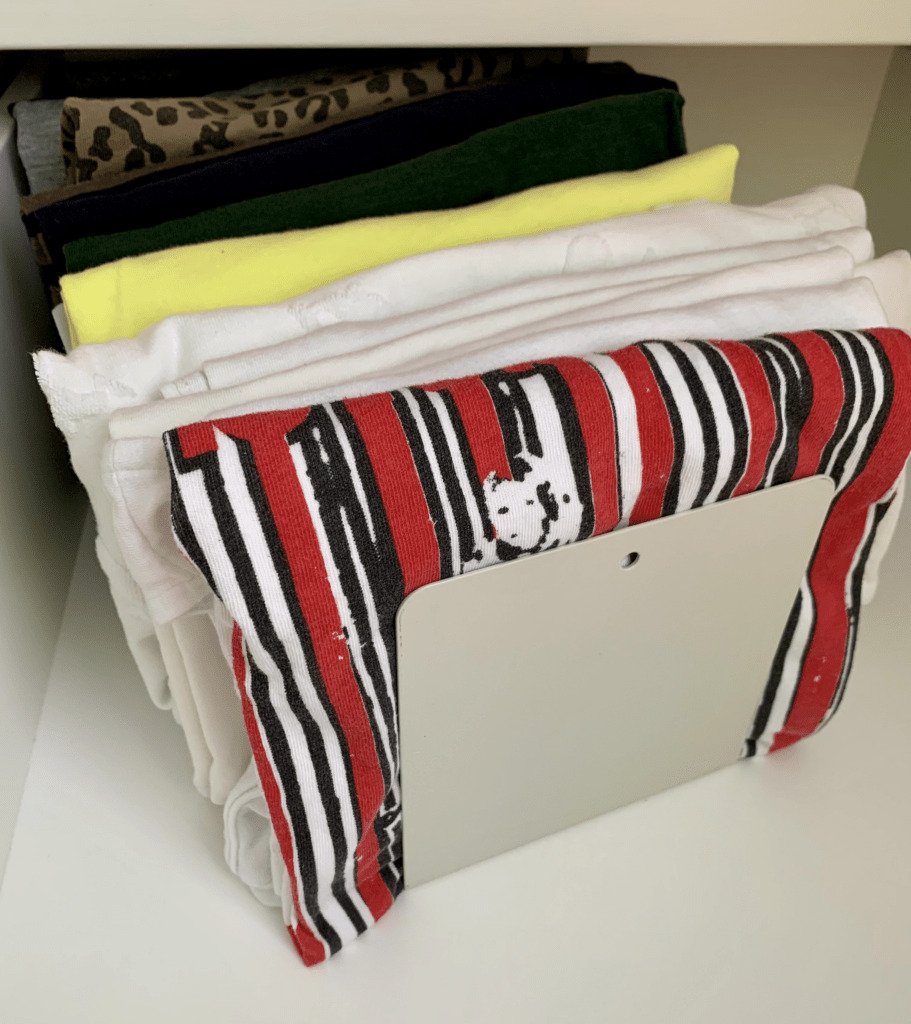 Another great office supply hack is to use binder clips to keep cables tidy. In short: don't neglect to have a look around in the office supply section when searching for organisers to help with your home organisation strategies.
Label Things
A label maker is a great little purchase you can get a lot of use out of. From labelling binders and files in your home office, to jars in the pantry and shelves in the cellar, this little device is super useful around the house.
You don't have to go bananas with it and label obvious things like granola in a clear container. But labelling things that look the same and could be easily confused makes good sense. I keep a lot of my dried staples in glass jars, for example. I don't want to be confusing white sugar with glutamate when cooking, so that's where a label maker comes in handy.
If you don't want to buy a label maker, some tape and a waterproof marker will do the trick, too!
Keep Stuff in Easy Reach
When organising or re-arranging, make things convenient for you to reach. Digging for your coffee grinder in the back of the cabinet every morning is no fun when you use it daily. Keep it towards the front and move infrequently used things like an ice cream maker towards the back of your kitchen cabinet. The same goes for cosmetic items in the bath, or dried and canned goods in the kitchen. Keep the products you use regularly at the front. Rotate foodstuffs with future expiration dates towards the back so that you use up things with the earliest expiration dates first.
Store things where you use them as part of your home organisation strategy. For example, if you tend to remove your shoes when you come in, have a shoe rack right at the door where you can slip them on and off as you come and go.
A key holder or little key tray near the door is also great so that you always know where they are. And if you don't have a coat closet (I hear you), add some hooks next to the front door for the coats and jackets currently in heavy rotation. Grab and go! Keeping stuff in reach and where you need it saves you time and spares you the pain of having to search for things when you're in a rush.
Set Up a Home Maintenance Calendar
If you own your own condo or house, create a schedule for your home maintenance. You can do this in a simple spreadsheet, in your note taking software, or set up reminders in your computer's calendar so that you don't drop the ball on these important tasks. You don't want to be missing any required annual chimney sweeps, forget to clean your gutters in the autumn and spring, or run into any heating problems in the dead of winter because you failed to have your system serviced.
Tracking all of the home maintenance tasks you need to do on a semi-regular basis can save you a lot of headaches and money in the long run.
Declutter Desktop and Countertops
Make it a habit to always have a clean desk and uncluttered counters in the kitchen. Clutter very quickly takes over these large surface spaces. Clearing them off daily will prevent it from piling up. Before you drop a pile of stuff on these surfaces, use the GTD approach from above to make an immediate decision as to where to put things away.
Edit, Edit, Edit: One of the Best Home Organisation Strategies
Regularly take inventory of what you have, whether it's in the kitchen, the closet, or on your bookshelf. For the latter, you might want to opt for one of the book catalogue apps available for smart devices. If you love books, they're a great way to keep track of your collection.
Paring things down once or twice a year by sorting out what you no longer want or use is a smart home organisation strategy to prevent things from piling up. And if you're feeling overwhelmed as to what to do with everything you've edited out of your household, check out my post on getting rid of stuff you've decluttered, which has lots of tips and ideas.
Stick to the One In, One Out Rule
The last hack on this list of home organisation strategies is simple, but so effective.
To avoid accumulating a tonne of stuff all over again after you've decluttered and organised, stick to a "one in, one out" approach. For every new item you introduce to your household or closet, get rid of an older item in its place. If you buy a new jumper, donate an old one to your favourite charity for example.
Sticking to this rule will prevent things from piling up at home. After all, the more stuff you own, the more your stuff owns you!
Looking for more tips to stay tip-top tidy every day? Check out these seven daily organising hacks. What are your favourite home organisation strategies?